Welcome to our stop on Playlist for the Dead tour for Michelle Falkoff. This tour is hosted by
Rockstar Book Tour
.
---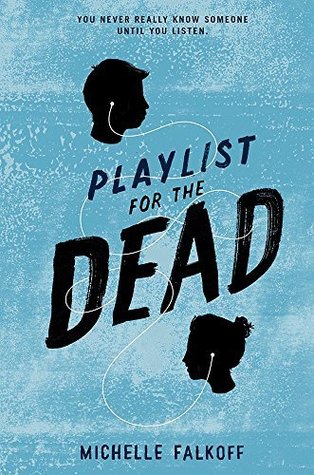 Playlist for the Dead
Author: Michelle Falkoff
Reading Level: Young Adult
Genre: Contemporary
Released: January 27th 2015
Review Source: Harper Teen
A teenage boy tries to understand his best friend's suicide by listening to the playlist of songs he left behind in this smart, voice-driven debut novel.

Here's what Sam knows: There was a party. There was a fight. The next morning, his best friend, Hayden, was dead. And all he left Sam was a playlist of songs, and a suicide note: For Sam—listen and you'll understand.

As he listens to song after song, Sam tries to face up to what happened the night Hayden killed himself. But it's only by taking out his earbuds and opening his eyes to the people around him that he will finally be able to piece together his best friend's story. And maybe have a chance to change his own.

Part mystery, part love story, and part coming-of-age tale in the vein of Stephen Chbosky's The Perks of Being a Wallflower and Tim Tharp's The Spectacular Now, Playlist for the Dead is an honest and gut-wrenching first novel about loss, rage, what it feels like to outgrow a friendship that's always defined you—and the struggle to redefine yourself. But above all, it's about finding hope when hope seems like the hardest thing to find.
Interview:
What can you tell me about your upcoming novel, Playlist for the Dead?
It's the story of Sam, whose best friend Hayden commits suicide and leaves a playlist of songs behind as a suicide note. Sam spends most of the book trying to figure out why Hayden did it, and also to find out who's responsible for taking revenge on the bullies who tormented the two of them. There might also be wizards. Just saying.
What is your favorite scene in Playlist for the Dead?
I had a lot of fun writing the scene in Peterson's Soda Fountain, where Sam and Astrid share some fries and admit they dig each other. It was lighter than some of the other scenes in the book, and for some reason I'm obsessed with those old-timey places that serve egg creams. I've got a railroad-car diner scene in my next book, complete with starched waitress uniforms and tabletop jukeboxes, though we'll see if it makes it into the final cut…
If you had a do-over, would you tackle anything differently? (this can be about writing the novel itself (change the ending, plot etc) or about the writing/publishing process overall)
That's a question with a lot of layers! The tricky thing about looking-back questions is that, given the ability to go back with hindsight, the answer is always yes. I'd figure out issues with plot and character faster, giving me more time to revise and hone and finesse and obsess over every little detail. But if I started over just as myself, with no special knowledge or future-Michelle superpowers? I'd still be someone who powers through a baggy, messy draft and then sifts through it like someone looking for shiny shells at the beach. So I try not to look back too much—it tends to just lead to regret, and regret is no fun.
What is an unknown fact about Playlist for the Dead?
I've been talking about the book so much that it's hard to imagine what I haven't already told people! Here's one fact that might be less known: originally, each chapter had a two-line epigraph that signaled a little bit about what Hayden might have been thinking when he included it in the playlist. As a former copyright lawyer, I should have realized how difficult it would be to get permissions for so many songs, so we ended up taking them out and just leaving the titles. It makes the playlist a little more cryptic, which might be a plus for some, but I spent SO much time on those two lines, so I've been making myself feel better by posting them on Twitter and Facebook.
What can your fans look forward to next?
I'm working on a book about a high school valedictorian who gets blackmailed into being part of a prescription drug ring. Or at least that's what it's about so far.
---
Michelle Falkoff's fiction and reviews have been published in ZYZZYVA, DoubleTake, and the Harvard Review, among other places. She is a graduate of the Iowa Writers' Workshop and currently serves as Director of Communication and Legal Reasoning at Northwestern University School of Law. This is her first novel.
There is a tour-wide giveaway for 3 copies of PLAYLIST FOR THE DEAD (US/Canada ONLY)
a Rafflecopter giveaway
Week One:
1/26/15 Novel Novice – Guest Post (Author provides post & topic)
1/27/15 Me, My Shelf and I – Review + Excerpt (Author to provide excerpt)
1/28/15 Such a Novel Idea – Review
1/29/15 Fictitious Delicious – Review
1/30/15 Once Upon a Twilight – Interview