---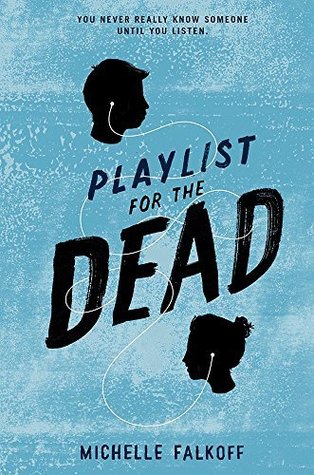 Playlist for the Dead
Author:
Michelle Falkoff
Reading Level: Young Adult
Genre: Contemporary
Released: January 27th 2015
Review Source: HarperTeen
A teenage boy tries to understand his best friend's suicide by listening to the playlist of songs he left behind in this smart, voice-driven debut novel.

Here's what Sam knows: There was a party. There was a fight. The next morning, his best friend, Hayden, was dead. And all he left Sam was a playlist of songs, and a suicide note: For Sam—listen and you'll understand.

As he listens to song after song, Sam tries to face up to what happened the night Hayden killed himself. But it's only by taking out his earbuds and opening his eyes to the people around him that he will finally be able to piece together his best friend's story. And maybe have a chance to change his own.

Part mystery, part love story, and part coming-of-age tale in the vein of Stephen Chbosky's The Perks of Being a Wallflower and Tim Tharp's The Spectacular Now, Playlist for the Dead is an honest and gut-wrenching first novel about loss, rage, what it feels like to outgrow a friendship that's always defined you—and the struggle to redefine yourself. But above all, it's about finding hope when hope seems like the hardest thing to find.
Upon reading the synopsis for this book I was intrigued on how similar it sounded to Thirteen Reasons Why by Jay Asher. I have a morbid fascination with suicide, I try to understand why these characters decided that life was too unbearable, so naturally I wanted to read Playlist for the Dead. Like Asher's novel, the book is told through a person who is trying to figure out why his friend committed suicide, however Falkoff focused more on self discovery when Asher concentrated on why his character took her own life.
As you can expect, this is a heavy book. It starts off with the main character, Sam, finding his best friend's body. Hayden left behind a playlist for Sam and Sam struggles throughout the book trying to figure out why Hayden would take his life using this playlist as a reference. The author did an excellent job making the story as close to reality as possible. The emotions were real, along with feeling lost, Sam feels guilty, angry, and alone. Since Hayden was his only friend Sam now has to cope with his loss along with trying make some new ones. While the character tried to come to terms with everything I tried to picture how I would react in that situation. Sam felt guilty because he thinks that he contributed to Hayden's death, he also feels guilty for trying to make new friends. This is an excellent example of how I would feel if I lost my friend. I would repeatedly search through my mind for something, anything I could have done to prevent it- which is another thing Sam did.
What fell flat to me was the romance. Sam is very awkward and has never dated a girl, but after Hayden dies he meets one and they kind of become a thing. I feel that the romance was unnecessary, what Sam needs is a friend who understands him, who listens to him- not a girl who will make him temporarily forget about everything. I also was disappointed that the playlist didn't have a bigger part in the book. The songs were mentioned and with them flashbacks to when Hayden was alive, but by the end of the book I still didn't understand why Hayden left it for Sam. Sam discovered some reasons why Hayden took his own life through other sources- not through the playlist. I think it would've been nicer if the lyrics lead Sam to the sources he used or if they gave hints.
Other than that I really enjoyed the book and would recommend it to fans of
Thirteen Reasons Why
!