---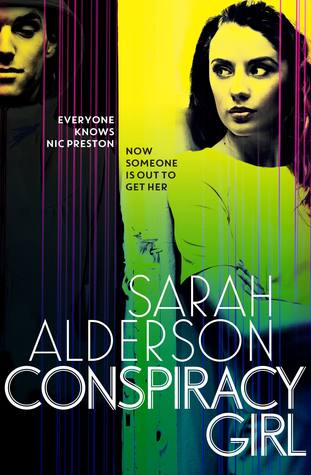 Conspiracy Girl
Author:
Sarah Alderson
Reading Level: Young Adult
Genre: Contemporary
Release Date: February 12, 2015
Review Source: Simon & Schuster | Netgalley
Everybody knows about the Cooper Killings – the Bel Air home invasion that rocked the nation. There was only one survivor - a sixteen year-old girl. And though the killers were caught they walked free.

Now eighteen, Nic Preston - the girl who survived - is trying hard to rebuild her life. She's security conscious to the point of paranoia and her only friend is a French Mastiff bulldog, but she's making progress. She's started college in New York and has even begun dating.

But then one night her apartment is broken into and the life Nic's worked so hard to create is shattered in an instant.

Finn Carter - hacker, rule breaker, player – is the last person Nic ever wants to see again. He's the reason her mother's killers walked free from court. But as the people hunting her close in, Nic has to accept that her best and possibly only chance of staying alive is by keeping close to Finn and learning to trust the person she's sworn to hate.

Fleeing across a snowbound New England, frantically trying to uncover the motive behind the murders, Nic and Finn come to realize the conspiracy is bigger than they could ever have suspected. But the closer they get to the truth and the closer they get to each other, the greater the danger becomes.
I love Sarah Alderson. She's one of those authors where I know I'm going to love her book before I even know a single thing about the book. She's
that
kind of author. Despite having other books in line to be reviewed first, I was cheeky and dived into
Conspiracy Girl
. I couldn't wait, knowing it was sitting pretty on my Kindle.
It's the mystery which got me in
Conspiracy Girl
. Exactly 35% into the book and I'm dying to know what's going on. Who killed her parents? Why are people going missing? Who's involved? I had no idea whatsoever. And despite that at this point I knew nothing; I knew I was in for a shock. Sarah Alderson has a knack for the unexpected and is good at making my jaw drop.
Conspiracy Girl
is Nic's journey. Two years ago her mother and stepsister were both brutally murdered and two years later they're back—and this time, they're after Nic. The one who got away. But why now? Why two years later?
As always, Ms. Alderson made an amazing story. I was hooked the whole way through and I
loved
Finn and Nic's characters. He's completely loveable and has this vibe about him, with his unbelievable hacking skills, no one can keep him from knowing things, which is why he's the perfect person for finding the real murders of her mother and stepsister. And Nic, what didn't kill her made her stronger. I respected her character a lot, and I think she's one of my favourite characters I've discovered in 2014.
That shock I was on about....yeah, I got it. It was unexpected. But it leads up to a perfect ending.