---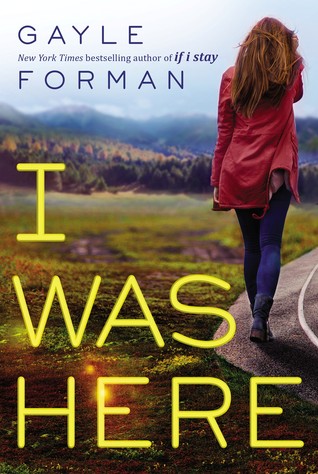 I Was Here
Author:
Gayle Forman
Reading Level: Mature Young Adult
Genre: Contemporary
Release Date: January 27th 2015
Review Source: Viking Juvenile
Cody and Meg were inseparable.
Two peas in a pod.
Until . . . they weren't anymore.

When her best friend Meg drinks a bottle of industrial-strength cleaner alone in a motel room, Cody is understandably shocked and devastated. She and Meg shared everything—so how was there no warning? But when Cody travels to Meg's college town to pack up the belongings left behind, she discovers that there's a lot that Meg never told her. About her old roommates, the sort of people Cody never would have met in her dead-end small town in Washington. About Ben McAllister, the boy with a guitar and a sneer, who broke Meg's heart. And about an encrypted computer file that Cody can't open—until she does, and suddenly everything Cody thought she knew about her best friend's death gets thrown into question.

I Was Here is Gayle Forman at her finest, a taut, emotional, and ultimately redemptive story about redefining the meaning of family and finding a way to move forward even in the face of unspeakable loss.
Pinning and blaming yourself for a death is heartbreaking. Your conscience is always there telling you of ways you could've prevented such event. Its a never ending conflict and self-punishment. You dig yourself into a hole and only you are able to get out.
When Cody learned her best-friend, Meg, committed suicide, she was stunned with the news. Cody couldn't put things together. In her opinion, Meg was full of life. She just couldn't believe her friend was suicidal. As she visited Meg's apartment to pick her belongings, Cody finds cryptical and suspicious emails. But as she digs for answers she learns things she did not expect.
Cody learns Meg needed help. She started to blame herself for not being a good friend. For being mad at Meg. For not visiting when Meg needed her the most. For not understanding Meg's words - the messages she was trying to deliver. The more she explored, the more addicting she became at finding out the truth. The more she felt guilty. In a way, she set herself in a journey of redemption.
I recently learned in
My Heart and Black Holes
about online support group - one that support suicide. The book didn't go into details but I Was Here did. Mind you, this book is fictional but I was amazed at the things people say to encourage others to end their lives. It is saddening and alerting.
I Was Here is dark. It tackles such a heavy subject and it goes into details. Its not an easy read and the details and comments on the forums are traumatic.
Once again, Gayle does not fail at provoking emotions. It will keep you awake at night. It will make you cry. Fans and lovers of heavy subject will enjoy I Was Here.