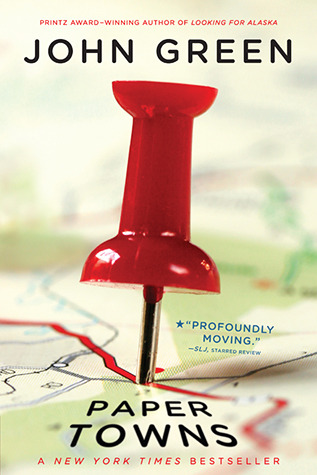 Paper Towns
Author:
John Green
Reading Level: Young Adult
Genre: Contemporary | Mystery | Realistic
Released: October 4th 2008
Review Source: Purchased
From the #1 bestselling author of The Fault in Our Stars

Winner of the Edgar Award for Best Young Adult Mystery
New York Times bestseller
USA Today bestseller
Publishers Weekly bestseller

When Margo Roth Spiegelman beckons Quentin Jacobsen in the middle of the night—dressed like a ninja and plotting an ingenious campaign of revenge—he follows her. Margo's always planned extravagantly, and, until now, she's always planned solo. After a lifetime of loving Margo from afar, things are finally looking up for Q . . . until day breaks and she has vanished. Always an enigma, Margo has now become a mystery. But there are clues. And they're for Q.

Printz Medalist John Green returns with the trademark brilliant wit and heart-stopping emotional honesty that have inspired a new generation of readers.
Paper Towns
, while not necessarily my favorite book written by John Green, it was definitely a very good read. The story of a girl who everyone was too fascinated by to bother figuring out and a boy who made it his priority to do just that.
Margo Roth Spiegelman. Just the utterance of her name brought about legendary memories from anyone who heard it. When Quentin hears it, though, he thinks of his childhood friend who never ceases to take his breath away. Margo and Quentin are neighbors and were very close friends as children, but high school rolls around and does its social dividing and they haven't spoken much since then- 'till that one fateful night that Margo shows up at his window dressed as a ninja asking for his (mom's) car. They get revenge on some deserving people, break into Sea World, and Quentin can't help but fall a little more in love. Then she's gone missing the next morning, something not rare for Margo. When she does pull this stunt, though, she's known to leave clues but her parents can't seem to find any, then Quentin does and he's convinced they're meant for him.
This story is about how we all imagine and mis-imagine the people in our lives, and containing something that cannot be contained, and learning, and heartbreak, and emotional roller coasters, and friendship, and growth.
Really it is a beautiful story worth reading. It really opened my eyes to whether or not I was just imagining rather than knowing those I love.