Friday Author SPOTLIGHT! We will feature a Young Adult, New Adult or Adult Author. These post will contain interviews, author posts, book blasts, fill in the blanks, etc... This is just our way to get authors noticed and out there as much as possible. So we hope you enjoy and stay tuned Fridays to see who we have on and what they shared. To see previous posts click here.
Today OUaT is in awe to feature Author Alexis Bass. She is the author of Love and Other Theories, released December 30th 2014 by HarperTeen and available to order.
Author Alexis Bass
Alexis Bass grew up in Washington, went to college in Arizona, and spent her early twenties in Seattle. She currently lives in Northern California with Dylan McKay, her gorgeous and rambunctious golden retriever. She loves good fashion and good TV as much as a good book, and is a huge advocate of the three C's: coffee, chocolate, and cheese. LOVE AND OTHER THEORIES is her first novel.
•
•
•
---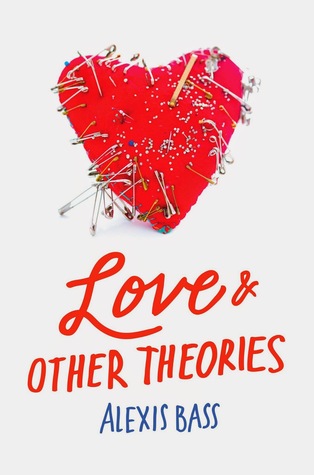 If you want more, you have to give less.

That's the secret to dating in high school. By giving as little as they expect to get in return, seventeen-year-old Aubrey Housing and her three best friends have made it to the second semester of their senior year heartbreak-free. And it's all thanks to a few simple rules: don't commit, don't be needy, and don't give away your heart.

So when smoking-hot Nathan Diggs transfers to Lincoln High, it shouldn't be a big deal. At least that's what Aubrey tells herself. But Nathan's new-boy charm, his kindness, and his disarming honesty throw Aubrey off her game and put her in danger of breaking the most important rule of all: Don't fall in love.
---
Interview
1. Can you tell us a little bit about yourself?
I have been telling stories ever since I was old enough to talk, and had my first writing partner when I was six (my best friend who lived down the street—we wrote and illustrated picture books). My next writing partner was my best friend in middle school and we wrote what is probably best described as Jurassic Park fan-fiction. I have three critique partners now that I highly depend on for support and feedback, and friendship.
I recently moved to Northern California—I'm a Seattle transplant—and I'm still getting used to sixty-degree winters.
2. What inspired this story?
About a year before I started writing Love and Other Theories, I was in a small coffee shop and the four teenage girls in front of me in line were discussing the television show The Bachelor, listing off everything Contestant A did wrong, and brainstorming how they would've handled a certain over-night situation if they were Contestant B—theorizing, really, and comparing the situations to their own lives. It reminded me of the way my friends and I used to talk about Joey Potter, from Dawson's Creek, when we were in high school, judging her for choosing Dawson over Paris. I wanted to tell a story about trying to figure love at that time in life when you're exposed to so many 'it could go this way, and turn out awful,' situations, and about girls who tried to take control of this the best they could, even if they maybe took it much too far.
3. As a reader the ending is almost heartbreaking to read. What was it like for you to write it? Were you just as heartbroken as I was or were you settled knowing that was how it had to end?
It was completely heartbreaking to write, but I did know how the story would end—what the characters would go through, and what the fallout would be for them. It was most important to me to write and honest and realistic ending, even if it wasn't a happy ending.
4. In what ways do you relate to Aubrey?
I relate to the way she's naturally skeptical, but mostly Aubrey and I are very different.
5. Were you like Aubrey's friends Shelby clique or the nerdy clique in high school?
We were not very much like Shelby and her friends at all—aside from sequestering ourselves at parties (but that a because we were shy), and we would sometimes meet up during the week to each junk food and watch our favorite shows (and we were always invested enough in the story to yell at the screen).
6. Is there a part of you that wanted Aubrey to just cut herself out of Shelby's group and theories?
Yes, and while I think Aubrey does let the theories go, I knew she wouldn't be so quick to cut off Shelby. She's known Shelby her entire life, and at the end of the book she is finally seeing things about Shelby that she never knew—she was finally understanding that Shelby was in pain and very confused, and that Shelby wanted to believe in the theories because she needed to believe something could protect her.
7. Was there ever a draft where Aubrey told Nathan about the theories? The whole time I was reading I just wanted her so badly to explain why she didn't stop him from going back home for a week, or why she seemed to not care.
There wasn't! But I definitely see what you mean. And I think Nathan was sort of able to piece together that there were "theories," or at least he figured out (too late) that there were things the girls were doing only because they thought they were supposed to be acting and feeling a certain way.
8. If Aubrey told Nathan about the theories would he still have become the boy the theories were made for?
That is such a great question! On one hand, he might've told Aubrey he thought the theories were insane and asked her to be honest with him; but on the other hand, he might've felt like he had to accept it instead of fight it Aubrey when she told him what she thought about high school relationships being temporary. It's hard to say. (I'd love to know what you think, too! ;))