Welcome to our stop on Dark Debt tour for Chloe Neill. This tour is hosted by
Chloe Neill
.
---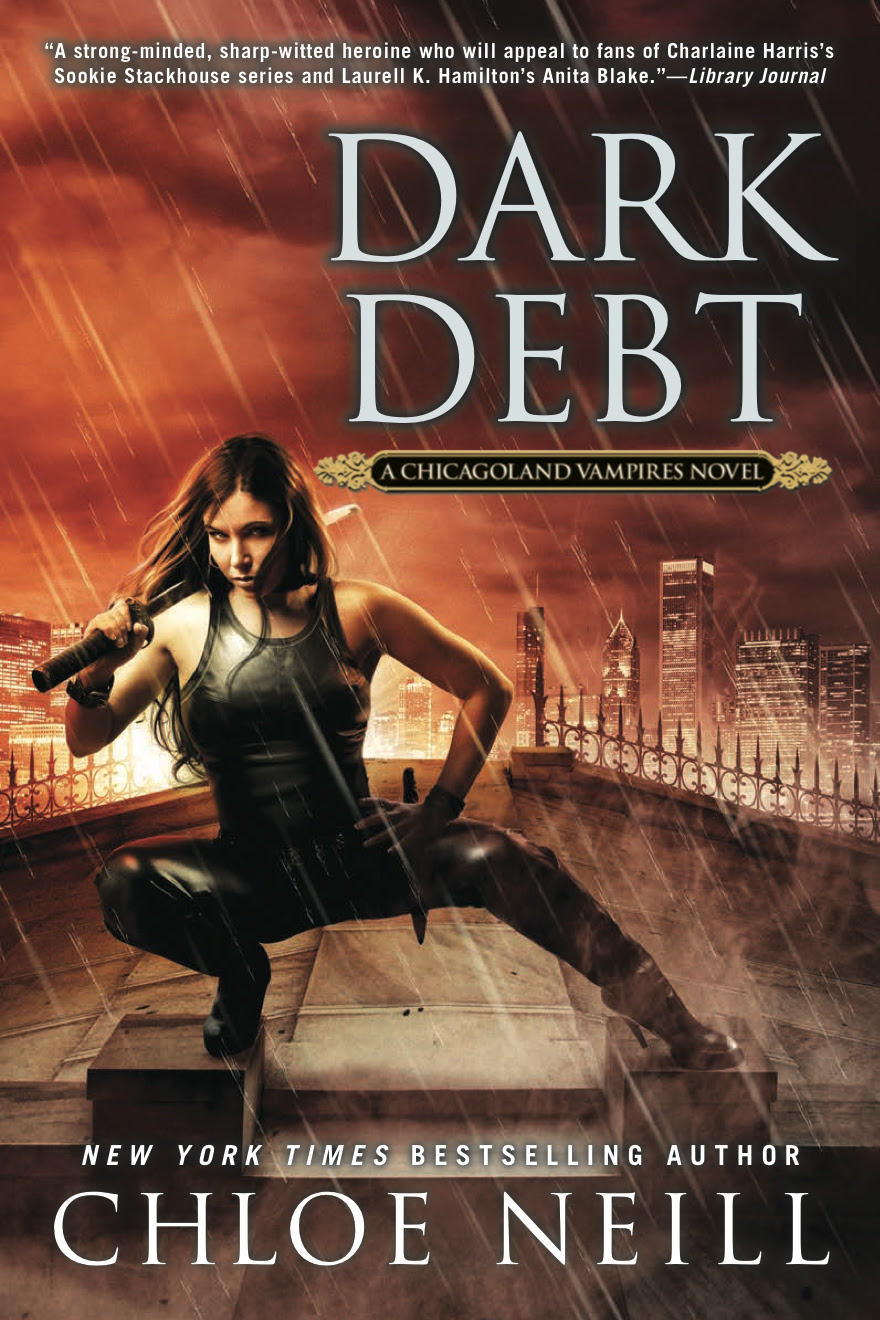 Dark Debt
Chicagoland Vampires #11
Author: Chloe Neill
Reading Level: Adult
Genre: Urban Fantasy
Released: March 3rd 2015
Review Source: NAL Trade
A vampire never gets old. But neither do his enemies. When a figure from Ethan's dark past makes a splashy debut in Chicago, Merit and her Master don't know whether he's friend or foe. But they'll have to figure out soon, because trouble is brewing in the Windy City.

At an exclusive society soiree attended by the upper echelons of the human and supernatural worlds, Merit and Ethan barely stop the assassination of a guest. When the target turns out to be a shady businessman with a criminal edge, Merit suspects a human vendetta. But the assassins have fangs....

The connections to Chicago's Houses go deeper than Merit knows, and even one wrong move could be her last....
I love this series so much that I could have confidently rated this book a 5 before reading. And yes, after reading I gave it five trees. There's just something about Chloe Neill. Her writing just really works for me. It excites me. When I open a new Chicagoland Vampires book I get happy. I get excited whilst reading. I smile when I see all the characters I've come to know and love. She turns me into a complete fangirl.
To summarize what happens: Dark Debt was as awesome as this series goes. Morgan actually mans up (no, I'm not joking) and Joshua, Merit's father, isn't a complete jerk (it surprised me too) and the Mallory & Catcher thing....wait. No. I can't mention that. That would be a
huge
spoiler. But trust me, you're going to
love
it.
I finished this book a few days ago and it has put me in a complete book hangover. I'm itching for more Merit and Ethan, for more of all the other characters--even the not-so-great ones. I just need more. I sound needy, but Chloe Neill did this to me. Blame her.
The drama continues in Dark Debt. Neither Ethan or Merit can seem to catch a break these days. Then again, deep down they both knew it was only a matter of time before the next problem came along considering the bad follows them around like an unwanted rash. This time it was Ethan's maker, Balthasar. All these years Ethan thought he was dead, but now here he is, flaunting himself in the public eye. But he's not here for a friendly visit, he's here because he wants to destroy everything Ethan has built and take his House and Master status away from him.
As always, the drama was exciting. Merit's humour was on point. And it was a fabulous read. In this book we don't any scenes with the wolves. Gabe, his family, Nick and the rest of his family aren't present in Dark Debt and I kind of missed them. But trust me, the book is so awesome that you won't notice the people we don't see, because Dark Debt has a bigger plot than Balthasar. It sets us up for book #12 and from what I've picked up, it's going to be exciting.
Dark Debt made my heart pound. I was close to shedding a tear or two, and the feels we're just so perfect. And you know, I found this review really hard to write. There were so many things that I just wanted to blurt out and fangirl over but I couldn't, not without revealing spoilers. There are so many things I want to talk about and mention, and avoiding it was hard, let me tell you. I think you'll all really like this one.
---
Chloe Neill is the New York Times and USA Today bestselling author of the Devil's Isle, Chicagoland Vampires, and Dark Elite series. She was born and raised in the South, but now makes her home in the Midwest. When not writing, she bakes, works, and scours the Internet for good recipes and great graphic design. Chloe also maintains her sanity by spending time with her boys–her favorite landscape photographer/husband and their dogs, Baxter and Scout. (Both she and the photographer understand the dogs are in charge.)
Giveaway!
The packet will include:
- Cadogan House cotton tote bag
- Cadogan House keychain
- An autographed international Chicagoland Vampires or Dark Elite novel
- Swag, including Chicagoland Vampires bookmarks and pens, and Cadogan House lanyards
The fun doesn't stop here
. Want more chances to win? You can also enter the Dark Debt Grand Prize Giveaway, which runs February 23 through March 6 on
Chloe's web site
. What is the Grand Prize Giveaway prize?
- An engraved Cadogan House medal necklace
- A Kindle Paperwhite
- Cadogan House cotton tote bag
- Cadogan House keychian
- Chicagoland Vampires bookmarks, pens, and lanyard