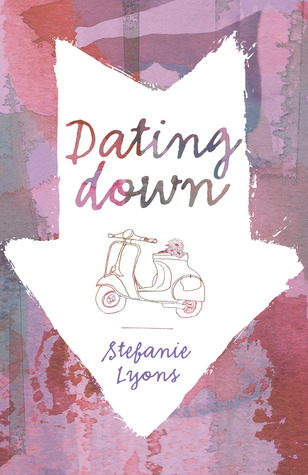 Dating Down
Author:
Stefanie Lyons
Reading Level: Young Adult
Genre: Contemporary Poetry
Expected Release: April 8, 2015
Review Source: Flux | Netgalley
When a good girl falls for a bad boy.

She thought she loved him. She thought she could change him. She thought if she just believed in him enough, his cheating and his drugs and his lying would stop, and she'd be his and he'd be hers and they'd love each other forever.

But for Samantha Henderson, X-the boy she will not name-is trouble. He's older, edgier, bohemian . . . and when he starts paying attention to Sam, she can't resist him. Samantha's family and friends try to warn her, but still she stays with him, risking her future and everything that really matters.

As moody and vivid as it is captivating, Dating Down is told in scenes and bursts of poetry that create a story filled with hurt, healing, and hope.
When I saw this title on Netgalley I was so excited to see a novel in verse! Ever since I found Ellen Hopkins, I've been obsessed with novels in verse. I also totally loved this colors in this cover. The coral, pinks, and purples work so well together and the cute scooter on the front drew me in. With that said, though, I was hoping for one thing, and totally got another. I wanted so badly to like this book since novels in verse don't get the credit they deserve sometime, but I wasn't excited about this one. It took a lot for me to get through it.
First of all, the characters were very predictable. I've read so many novels about girls with dad's in the spotlight and not feeling good enough. It's fine to have that in your plot, but this one just didn't fit. Also the good girl and bad boy thing has been done before and didn't feel very fresh. Samantha's friends and little sister ended up being my favorite characters.
I'm such a huge fan of novels in verse, but this one was really difficult to follow. Was it because I was reading it on a Kindle and not a hard copy? I don't know. The formatting wasn't very helpful on the Kindle, but even the wording was difficult and it sounded like a bunch of words strung together. I get that this was a teenager talking to her friends through text and short conversations, but I just couldn't follow it.
Maybe my middle school students would be able to read it and follow the craziness, but I just couldn't do it. Which makes me sad...because I love novels in verse...