---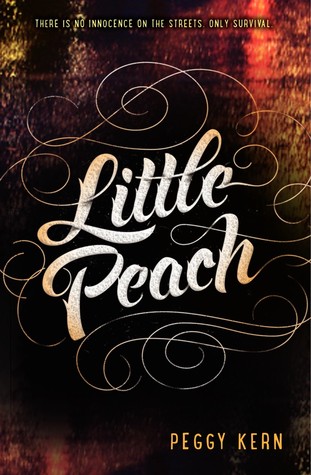 Little Peach
Author:
Peggy Kern
Reading Level: Young Adult
Genre: Realistic Fiction
Released: March 10th 2015
Review Source: Balzer & Bray
What do you do if you're in trouble?

When Michelle runs away from her drug-addicted mother, she has just enough money to make it to New York City, where she hopes to move in with a friend. But once she arrives at the bustling Port Authority, she is confronted with the terrifying truth: she is alone and out of options.

Then she meets Devon, a good-looking, well-dressed guy who emerges from the crowd armed with a kind smile, a place for her to stay, and eyes that seem to understand exactly how she feels.

But Devon is not what he seems to be, and soon Michelle finds herself engulfed in the world of child prostitution where he becomes her "Daddy" and she his "Little Peach." It is a world of impossible choices, where the line between love and abuse, captor and savior, is blurred beyond recognition.

This hauntingly vivid story illustrates the human spirit's indomitable search for home, and one girl's struggle to survive.
Little Peach is a little book full of emotions! The tears. My GOD. I cried like no other. Such a short, dark and full of emotions story.

FEELS.

The book is short. Something you are able to read within 2 hours, maybe less. It is only 190 pages. A read for a rain ride.

But the book is dark. You have to sometimes just take a deep breath to continue reading. It deals with forced prostitution. Believe it or not, women and kids in the USA are tricked and forced to prostitute themselves. Either for food, drugs and/or a place to sleep. They find themselves trap and nowhere to go without a treat. Most of them end up dead.

The book is full of emotions. A 14 year old kid named Michelle runs away from home after her mother's death. She doesn't have anywhere else to stay and tries to find a friend in the big city, New York. Upon her arrival, she meets a "kind" man. He buys her clothes, food and provides her a place to sleep. Within few days, he pushes her to world of sex. A world she is unable to escape. A world of drugs, money and death.

This book is for mature young adult - but an eye opening for everyone. This may be a fictional book but the events within the story are real. People go through this in the real world. We may try to ignore this, but we need to be informed and try make this stop.
a Rafflecopter giveaway