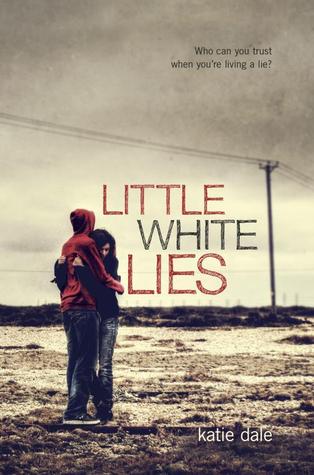 Little White Lies
Author:
Katie Dale
Reading Level: Young Adult
Genre: Contemporary
Released: December 9, 2014
Review Source: Delacorte
The first time Lou meets mysterious Christian, she knows he is The One. But Christian is hiding a terrible secret. Why does he clam up every time Lou asks about his past? Why doesn't he have any family photos, and why does he dye his blond hair black? When Christian's house goes up in flames, his tires are slashed, and he flees for his life, Lou insists on going with him. But as Christian's secret is unveiled in front of the whole world, it seems everything he's ever told Lou is a lie. Can what the media are saying about him really be true? Should Lou trust him? Or is she in grave danger? And what if their accidental meeting wasn't an accident at all...?
Don't you hate it when something looks and sounds so good, but then you're left feeling like it wasn't exactly what you were expecting? Well, that's how I felt after reading Little White Lies. I loved the cover and I loved the blurb on the inside cover, heck, I even loved the little teaser on the back of the book. However, when I started to read, I noticed that the writing was lacking and it just didn't do it for me.
One of my biggest pet peeves, and this is only because I'm a writer too, is something called tag lines. You might not even know what they are and probably don't even notice them yourself, but they bother me so bad. Tag lines are found at the end of someone speaking. Like, "I tell her honestly" and "Mike yells." Does that sound too picky? Probably, but by the time teens are reading at this level, they really don't need those tag lines as much, and this one had a lot. It became too distracting to really get into the plot and characters.
Another issue I had with the book is that the dialogue felt a little unrealistic. I may be thirty, yes I know I'm old, but it hasn't been that long since I was a teen. There were a lot of times in the story where I felt that the dialogue was too long. When I'm talking with my friends, I don't give them everything all at once. We talk back and forth to each other and it's short and sweet. Sometimes, more than I like, the dialogue went on and on and on.
I gave this book a three tree review instead of a two because I really did like the plot of the story and it held my attention for the most part. I don't think I will read other books written by this author, but I would recommend it to my students. I'm just a little too picky after reading so many great books, so don't take my word for it and read it yourself.