---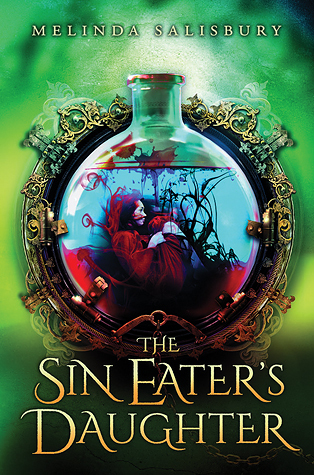 The Sin Eater's Daughter
The Sin Eater's Daughter #1
Author:
Melinda Salisbury
Reading Level: Young Adult
Genre: Fantasy
Released: February 24th 2015
Review Source: Scholastic Press
Seventeen-year-old Twylla lives in the castle. But although she's engaged to the prince, Twylla isn't exactly a member of the court.

She's the executioner.

As the Goddess embodied, Twylla instantly kills anyone she touches. Each month she's taken to the prison and forced to lay her hands on those accused of treason. No one will ever love a girl with murder in her veins. Even the prince, whose royal blood supposedly makes him immune to Twylla's fatal touch, avoids her company.

But then a new guard arrives, a boy whose easy smile belies his deadly swordsmanship. And unlike the others, he's able to look past Twylla's executioner robes and see the girl, not the Goddess. Yet Twylla's been promised to the prince, and knows what happens to people who cross the queen.

However, a treasonous secret is the least of Twylla's problems. The queen has a plan to destroy her enemies, a plan that requires a stomach-churning, unthinkable sacrifice. Will Twylla do what it takes to protect her kingdom? Or will she abandon her duty in favor of a doomed love?
Quite frankly, I am not sure how I feel about this book. It was good. I liked it. It had a great start. I loved the cover. Beautiful and colorful cover. I loved the world. God, this was beyond amazing. My only issue were the characters, I mean they were okay to me.
You may consider Twylla as a blessing or a curse; she is able to kill with one simple touch. She is the Sin Eater's Daughter. She is a tool the evil queen. Yes, evil. She is betrothed to Prince Merek of Lormere. She is many things, yet a fraud. WHAT?! Yes, you will have to read the story to know. The twist is crazy and I did not see this coming. It was intriguing and unpredictable. A "
WTH
" moment - how the HECK did I not see this coming?!
I loved the book for what it is - about a girl that instantly kills anyone whenever she touches them. I was curious to see where this story will lead us and I am glad I did. However, the romance, I was not fan of.
As the synopsis states, there is a new guard and boy, does he do damages. Thankfully, he did not win my heart. I think his relationship with Twylla was moving too fast. Also, he did not sweep me off my feet like with did with Twylla. I guess I am biased - I do want her with Prince Merek.
In my honest opinion, Twylla is very gullible. I liked her. I did. But I also wanted to smack her at times, still do, which is why I am tormented with the story. I hope she changes. With everything that is thrown at her, I hope she takes time to think. Instead of taking irrational decisions. I really do hope she does. I think she will because a the end of the book she did something unexpected and I really do need that second book to know more.
Overall, The Sin Eater's Daughter is unique. The twists and turns are insane. Lies are told, people are betrayed and hearts will be broken. Readers will be amazed.
a Rafflecopter giveaway