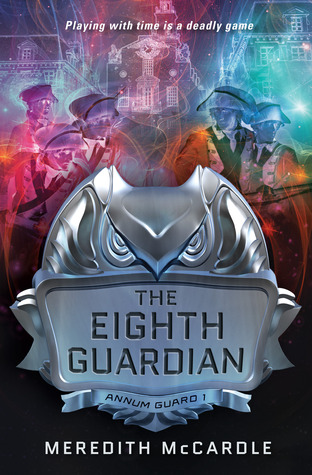 The Eighth Guardian
Annum Guard #1
Author:
Meredith McCardle
Reading Level: Young Adult
Genre: Time Travel
Released: May 6th 2014
Review Source: Purchased
Amanda Obermann. Code name Iris.

It's Testing Day. The day that comes without warning, the day when all juniors and seniors at The Peel Academy undergo a series of intense physical and psychological tests to see if they're ready to graduate and become government operatives. Amanda and her boyfriend Abe are top students, and they've just endured thirty-six hours of testing. But they're juniors and don't expect to graduate. That'll happen next year, when they plan to join the CIA—together.

But when the graduates are announced, the results are shocking. Amanda has been chosen—the first junior in decades. And she receives the opportunity of a lifetime: to join a secret government organization called the Annum Guard and travel through time to change the course of history. But in order to become the Eighth Guardian in this exclusive group, Amanda must say good-bye to everything—her name, her family, and even Abe—forever.

Who is really behind the Annum Guard? And can she trust them with her life?
The Eighth Guardian is a great time travel story! Such an adventure. I did not expect to liked this story as much as I did. The deception, betrayal, and the oh so good twists, had me turning pages. Such a great way to start a series.
How cool would it be to attend school to be train to work for the government? To work for the FBI, CIA, and such government agencies. For Amanda, everything changes on her Junior testing day. It has been decades since a junior is selected to graduate. Not only does she graduate a year early but now she is selected to become the Eighth Guardian to a very exclusive group. A group that many are not aware. A group that is able to travel time and change course of history. How in the world did this happen to her?
At first, I was iffy towards Amanda. She was too concerned about her love interest, Abe. But becoming Iris, her code name at Annum Guard, transformed her. She becomes daring and pulls some heck of tricks. I started to cheer for her. With so many deceptions and lies she goes through, Iris did not let this put her down! No she was trained to be a rock-star! I loved her.
I was glad I decided to read the first book when I was offered to review Blackout. I tend to read books in order. Even if the books can be read as standalone. And The Eighth Guardian was an awesome way to start such adventurous series.
---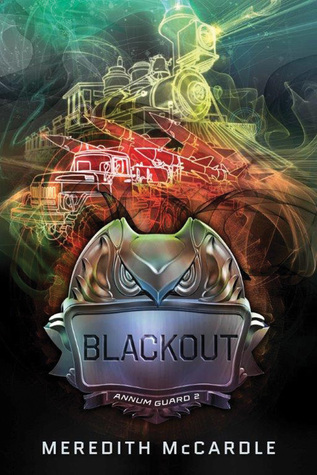 Blackout
Annum Guard #2
Author:
Meredith McCardle
Reading Level: Young Adult
Genre: Time Travel
Released: February 25th 2014
Review Source: Skyscape | Kaye Publicity
Seventeen-year-old Amanda Obermann (code name: Iris) has more on her mind than usual. As a member of a covert government organization called the Annum Guard, which travels through time to keep history on track, Iris has been getting some particularly stressful assignments. Plus, Jane Bonner, the Guard's iron-fisted new leader, seems determined to make life as hard as possible. Thankfully, Iris has Abe (code name: Blue), her boyfriend and fellow Guardian, who listens to her vent—and helps her cope with her mentally ill mother's increasingly erratic behavior.

When Guardians start to disappear on their assignments, Iris makes a terrifying discovery: a "blackout" squad is targeting anyone who gets in the way of a corrupt force that's selling out both the Annum Guard's missions and Guardian lives. Together, Iris and Blue must go undercover to untangle the Guard's elaborate web of secrets and lies. But when Iris discovers that the terrible truth may involve her own father, a former Guardian undone by his own greed, she must decide how much she's willing to risk to rescue her friends…and how dangerous the consequences will be for all of humanity.

A thrilling time-traveling adventure that spans from Abraham Lincoln's assassination to the Cuban Missile Crisis and back to the present day, this pulse-pounding sequel to The Eighth Guardian reveals that playing with time can turn into a deadly game.
With the way The Eighth Guardian ended, I couldn't wait to start Blackout. The best way to read a series is back to back. Right? Everything is fresh. However, I did not enjoy the sequel as much as I enjoyed the first book. I think it's the fact that I was expecting to be blown away. Until, 75% in is when things started to pick up for me. The ending was all worth it though! It was jaw-dropping. I did not expect such thing to happen. And I need the third book NOW.
The Eighth Guardian ends with a big twist and Blackout picks right where it left off. We follow Amanda a.k.a. Iris in a new adventure, (for me, more like research quest). Unlike the first book, things are not going the way she hoped for. There is a new leader of the Annum Guard and Amanda has a weird feeling towards her. She digs into her identity and she digs herself to her grave! Sometimes things are meant to be kept as a secret. Well, if you gather enemies along the way, you know they will be coming after you. And indeed, they come after Amanda.
There are many secrets Amanda is trying to uncover in Blackout and at times, I felt overwhelm. I had to put the book down at times and return to it later. Don't get me wrong, I wanted to find out, but sometimes it is better to take it one by one. As far as the action, I think it was lessen, which was my biggest issue. Reading the books back to back, I crossed from a badass Iris to a more composed Iris. However, with the way the story ended, I hope the third book will be one heck of a packed-action story.
Overall, I'd enjoyed both books. I enjoyed some of the historical details. I liked the humor and I loved how intense the story can get with one simple revelation. I'm glad I gave this series a try.