---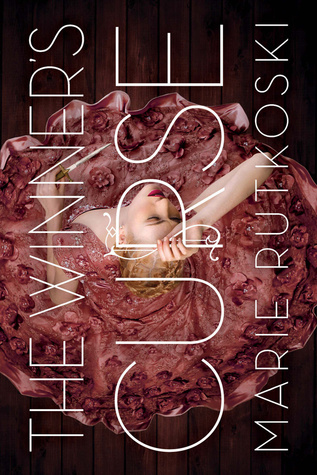 The Winner's Curse
The Winner's Trilogy #1
Author:
Marie Rutkoski
Reading Level: Young Adult
Genre: Fantasy
Released: March 4th 2014
Publisher: Farrar Straus Giroux
Winning what you want may cost you everything you love.

As a general's daughter in a vast empire that revels in war and enslaves those it conquers, seventeen-year-old Kestrel has two choices: she can join the military or get married. But Kestrel has other intentions.

One day, she is startled to find a kindred spirit in a young slave up for auction. Arin's eyes seem to defy everything and everyone. Following her instinct, Kestrel buys him—with unexpected consequences. It's not long before she has to hide her growing love for Arin.

But he, too, has a secret, and Kestrel quickly learns that the price she paid for a fellow human is much higher than she ever could have imagined.

Set in a richly imagined new world, The Winner's Curse by Marie Rutkoski is a story of deadly games where everything is at stake, and the gamble is whether you will keep your head or lose your heart.
CHAPTER 1-10
For starters, I'm so excited for this read along! I haven't read Winner's Curse yet and what a perfect opportunity to do so, I've felt so bad for neglecting it while it sat on my shelf.
We are following a story of the 17 year old daughter of General Trajan, she is given two choices in life, either join the military or get married, it seems to her those aren't the only choices she should be allowed to choose from. When we first meet Kestrel she's gambling and calling out merchants on their falsehood, when she unexpectedly found herself at a slave auction. The auction makes her uncomfortable and she tries to leave, but the crowd is heavy, but when a slave, Arin, is auctioned off she finds herself raising her hand and bidding, there's something behind those hooded eyes.
So far I definitely don't trust Arin, and Kestrel is my sort of protagonist. She's strong enough to be a warrior, kind enough to be a wife, smart enough to be a musician, and stands up for what she wants, and seems to be a pretty great gambler. She doesn't want to choose from either being a wife or warrior; she wants more options than just those two.
And can we talk about how beautiful the cover is? Gah I love it! And same with the Winner's Crime, their eye catching and intriguing, it's what initially drew me into this series, yes I admit it, I judged my purchase of this book based on its cover.
a Rafflecopter giveaway