Welcome to our stop on Charisma tour for Jeanne Ryan. This tour is hosted by
Penguin Teen
.
---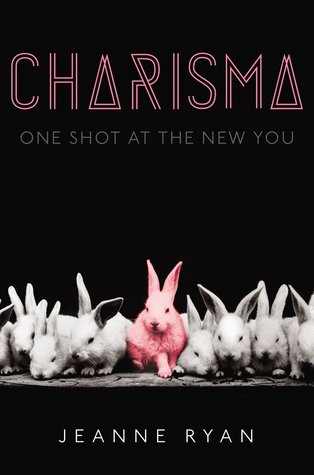 Charisma
Author: Jeanne Ryan
Reading Level: Young Adult
Genre: Thriller
Released: March 3rd 2015
Review Source: Dial Books
A chance at the ultimate makeover means deadly consequences in this Sarah Dessen-meets-Robin Cook thriller

Aislyn suffers from crippling shyness—that is, until she's offered a dose of Charisma, an underground gene therapy drug guaranteed to make her shine. The effects are instant. She's charming, vivacious, and popular. But strangely, so are some other kids she knows. The media goes into a frenzy when the disease turns contagious, and then deadly, and the doctor who gave it to them disappears. Aislyn must find a way to stop it, before it's too late.

Part medical thriller, part social justice commentary, Charisma will have readers on the edge of their seats.
Charisma /kəˈrizmə/: compelling attractiveness or charm that can inspire devotion in others.
What would you give up for a dose of CHARISMA?
I could've used a dose of Charisma while in high school. The fact that I used to inner cry while conducting a presentation in front of the class and stammer every five seconds. Yes, I would've loved to use a dose of Charisma, maybe two or three.
Who wouldn't?
Given the opportunity to help with her shyness, Aislyn, who is extremely shy and suffers from panic attacks, did not hesitate nor asked questions. She dreamed in succeeding in life. She wanted the freedom. Not only to talk to a guy she had a crush since forever, but to also help her exceed in her education. She did not wonder what were the causes when a doctor suggested her to take a drug called "Charisma". With no parental consent. An illegal act. But Aislyn had to gain so much from this. She did not think of the consequences. Especially when she realized the effects were immediate. She became the person she always wished to be. She was sociable, more confident and now she had the chance to speak her mind. A great mind that is.
But everything in this life is not free. One must always pay the consequences. Unfortunately, this drug would soon cause an epidemic. A very serious one that leads to death. Now that she had to seek medical help, this doctor disappeared, leaving no trace.
I wasn't sure where this book would lead to. I do have to say I was impressed how soon I became consumed in this world. I loved getting in Aislyn's mind. I felt connected with her. And I wanted her to succeed. She is intelligent to hide from the world. However, sometimes we have a lot to be thankful for. No matter what our personalities are. Whether we are likeable or not. We simply have to be thankful.
I really enjoyed Charisma. It's entertaining and educational. It deals with gene therapy, which is a very controversial topic in our society. Most of all, I loved how real it felt. I do recommend this book to lovers of suspense and thriller.
Guest Post


I am:
A juxtaposition of heart-on-the-sleeve and logical girl, who really, really wants to believe in magic.
Something you might not know about me is:
I love to hula-hoop and can do a bunch of tricks, e.g., knee hooping, neck hooping, and everything in between.
The best surprise ever would be:
Tickets to Hawaii and arriving to find my extended family gathered there—all expenses paid, of course.
The best part of my day is:
Sitting down with a hot drink and a burning desire to write
.
Something I am willing to fight for is:
My kids. Although I'm normally conflict avoidant, when it comes to them, I shift into mama bear mode.
Some wise words I love are:
When people show you who they are, believe them. (Maya Angelou)
Best cure for a bad day is:
Dancing music.
Happy ever after is:
A life getting to do what I love alongside my sweetheart and kiddos getting to do what they love too.
I hope to:
Take my writing to higher and higher levels, challenging myself and entertaining my readers.
I dream of:
Spending long stretches of time with my family nestled somewhere on the European countryside. No tasks beyond practicing whatever language and customs surround us, sampling scrumptious cuisine, and wandering through sun-dappled fields.
I am passionate about:
Curiosity and creativity, both essential for a vibrant life.
I think everyone should:
Believe that global warming is a real thing.
Right now I am super into:
Audio books. I always thought I didn't drive enough to appreciate them, but on a recent trip to Canada we listened to Ready Player One. As any six-year-old knows, there's an added dimension to enjoying a story when it's being read to you. It also lets you experience a book as a group activity. Who knew? (Besides six-year-olds.)
A world without books is:
A pathetically small world.
The most beautiful thing I've ever seen was:
Well, as a mom, let's just assume I've made the requisite comment about my daughter's smile and my son's eyes, okay?
Outside of the above, I'm a sucker for expressive skies, from the windswept sunrise over Haleakala, to the sherbet-colored sunset over the Olympics, and the endless blue horizon of Montana. (Yes, I totally cheated on this question with a multi-part answer.)
Thanks for hosting me on your blog!
---
I've lived all over the world, raised in a family with eleven brothers and sisters. I spent my early childhood in Hawaii and the rest of my growing-up years trying to figure out a way to get back there, with stops in South Korea, Michigan and Germany along the way. Before writing fiction, I tried my hand at many things, including war game simulation and youth development research. But I decided it was much more fun to work on stories than statistics.
These days, I still love Hawaii, but have found my home under the moody skies of the Pacific Northwest.