---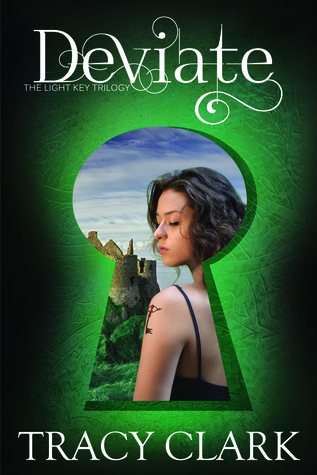 Deviate
The Light Key Trilogy #2
Author: Tracy Clark
Reading Level: Young Adult
Genre: Fantasy | Magic
Released: March 3rd 2015
Publisher: Entangled: Teen
Tormented after a daring escape, Cora Sandoval must find a way to stop the Arrazi from murdering innocent people and from violating, using, and killing the Scintilla for their powers. She must also accept one bitter betrayal: Finn Doyle—the Irish boy who has both a piece of Cora's heart and soul—is Arrazi...

On the verge of extinction and sought by those who would either consume or destroy them, Cora and the remaining Scintilla survivors must solve the mystery of The Light Key. If they fail, the truth will stay buried forever and mankind will pay the ultimate price.

No longer will she hide.

No longer will her loved ones be hunted.

And she will have her vengeance...even if she shatters her heart in the process.
Excerpt
I walked barefoot through the garden, stopping to notice a spiral design someone had made on the ground from river rocks. I bent to peer at it, and when I stood, Giovanni's hand was pressed to my back over the knife marking. My silk robe had slid down, exposing my marking. His voice burned with soft intensity. "So, you got this from the knife that night?"
I didn't turn around. "Yes."
His hand radiated a sweeping current over the spot where I'd been marked.
"I hate that the memory is written on my body."
He leaned in. "I'm sorry this happens to you. Il tuo dolore è il mio dolore..." he whispered in Italian. "Your pain is my pain."
Suddenly, I felt the soft brush of his curls on the nape of my neck. My breath caught and bumps flared on my arms as he bent and tenderly kissed the marking of the gruesome knife in the middle of my back. Unbidden fissures of pleasure spread from my back and radiated out, but still I didn't turn around. I couldn't. Doing so would have been a betrayal to my still-grieving heart, because it wanted nothing more than to turn and see Finn standing there.
That could never be. That could never be.
My body remembered what it was like to kiss Giovanni, to feel the weight of him on top of me and the electric pulse of our energy together. I pushed that memory away. My head needed to have supreme rule over the rest of me.
The pressure of Giovanni's lips on my skin lightened and I felt his energy recede. When I looked over my shoulder, I knew he'd be walking away from me. Sure enough, a trail of silver wound through the trees behind him. Surprising though, was the dark, tarnished-silver color of pain in the middle of his aura at his back.
He'd been sincere. My pain was his pain.
---
Tracy Clark is a young-adult writer because she believes teens deserve to know how much they matter and that regardless of what they're going through, they aren't alone. In other words, she writes books for her teen self.
She grew up a "Valley Girl" in Southern California but now lives in her home state of Nevada, in a small town at the base of the Sierra Foothills. Her two children teach her the art of distraction and are a continuous source of great dialogue. She's an unapologetic dog person who is currently owned by a cat.
Tracy was the recipient of the Society of Children's Book Writers and Illustrators (SCBWI) Work in Progress Grant. A two-time participant in the prestigious Nevada SCBWI Mentor Program where she was lucky enough to be mentored by bestselling author, Ellen Hopkins, who taught her so much about the art of writing and cured her of her ellipsis addiction.
Her debut novel was inspired by her enchantment with metaphysics as a teen, seeing it as the real magic in life. Tracy is a part-time college student, a private pilot, and an irredeemable dreamer.
a Rafflecopter giveaway