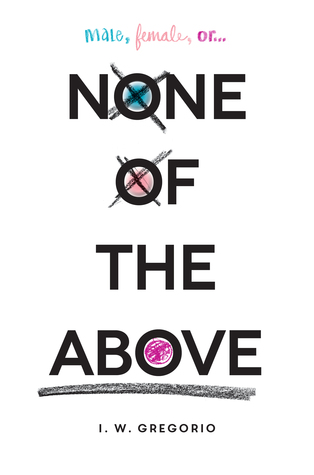 None of the Above
Author:
I.W. Gregorio
Reading Level: Young Adult
Genre: Contemporary
Expected Release: April 7, 2015
Review Source: Balzer + Bray
A groundbreaking story about a teenage girl who discovers she was born intersex . . . and what happens when her secret is revealed to the entire school. Incredibly compelling and sensitively told, None of the Above is a thought-provoking novel that explores what it means to be a boy, a girl, or something in between.

What if everything you knew about yourself changed in an instant?

When Kristin Lattimer is voted homecoming queen, it seems like another piece of her ideal life has fallen into place. She's a champion hurdler with a full scholarship to college and she's madly in love with her boyfriend. In fact, she's decided that she's ready to take things to the next level with him.

But Kristin's first time isn't the perfect moment she's planned--something is very wrong. A visit to the doctor reveals the truth: Kristin is intersex, which means that though she outwardly looks like a girl, she has male chromosomes, not to mention boy "parts."

Dealing with her body is difficult enough, but when her diagnosis is leaked to the whole school, Kristin's entire identity is thrown into question. As her world unravels, can she come to terms with her new self?
All I can say is...we need more books like this in the hands of our youth. If books like this one were in every school library, we might not have the issues we have today. I know that after reading this book, my mind has changed on how I see intersex people. I was so lucky to be able to review this book after reading the blurb on Goodreads.
Kristin finds out her Senior year that she looks like a girl, but has the inner body parts of a boy. I don't know how I would've reacted to this at that age. Back in the 90's this wasn't really something that was talked about, but now I think things are changing and it's more out in the open. Of course things aren't perfect, but I'm hoping with more books like this, it will be a lot easier for people like Kristin to feel comfortable with telling others about what they're going through.
I'm glad that the book was real when Kristin told her friends about what was going on in her world. If things had been perfect and everyone had been okay with that was happening, it would've been fake. There were times where I cried for the injustice that Kristin had to face at school. As a teacher, I know how difficult it can be for teenagers to be outcasts among their peers. It wasn't all sadness though, because you can see some glimmer of hope sprinkled around her story. You're reminded that there are some good people still in the world, and some that can change as well. It's hard on everyone when there is so many unknowns out there, so you can't be too harsh on people who are ignorant about Kristin's situation. Even if you want to just punch someone's lights out.
Overall, I really loved this book. It opened my mind and heart to others who are facing these same challenges. When I found out that Gregorio was not only a surgeon, but also one of the founding members of
We Need Diverse Books
, I love her even more. The writing was spot on and the storyline was perfect. The ending had me wanting more of Kristin's story. I want to know how she is five or even ten years from now!! I can't wait to read more from this author!!