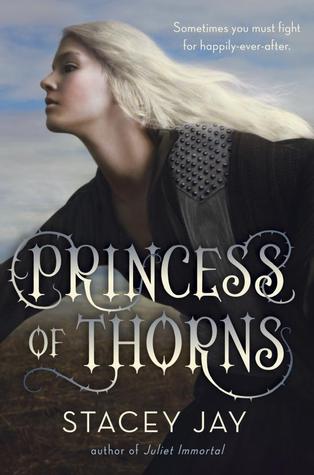 Princess Of Thorns
Author:
Stacey Jay
Reading Level: Young Adult
Genre: Fantasy
Released: December 9 2014
Review Source: Delacorte Press
Game of Thrones meets the Grimm's fairy tales in this twisted, fast-paced romantic fantasy-adventure about Sleeping Beauty's daughter, a warrior princess who must fight to reclaim her throne.

Though she looks like a mere mortal, Princess Aurora is a fairy blessed with enhanced strength, bravery, and mercy yet cursed to destroy the free will of any male who kisses her. Disguised as a boy, she enlists the help of the handsome but also cursed Prince Niklaas to fight legions of evil and free her brother from the ogre queen who stole Aurora's throne ten years ago.

Will Aurora triumph over evil and reach her brother before it's too late? Can Aurora and Niklaas break the curses that will otherwise forever keep them from finding their one true love?
A Princess set on saving her brother and taking back what is rightfully hers and a boy set on finding the princess to marry. Aurora poses as her brother in order to get Niklaas to help her fight the ogre queen. A story with adventure, and battles-Niklaas is a character whom makes you love him from page one, and Aurora is the princess warrior you would hope to be. A tale based after Sleeping Beauty, yet takes on its own life.
I loved this book. When I started this I had just finished A Wicked Thing, which is another story that is based around Sleeping Beauty. I liked this because it was based around the Grimm tale of Sleeping Beauty-which I am not completely familiar with-so I was able to get a new glimpse at this story that I love. Although this one had Fairies and magic within it, so I liked it a little bit more then the story that I am acquainted with.
I really loved the dynamic that Aurora and Niklaas picked up throughout the book, their relationship kept changing and I really loved that. I especially liked when they had first met, every time Niklaas would brag to Aurora about how he would end up marrying "his sister" without realizing she was whom he wanted to woo would always have me busting into laughter. I found that so hilarious for some reason, but I think it was really clever of Stacey Jay. This story is such an adventure, and it really immersed me in the world of Aurora. I felt as though I was going on this journey with her, and it filled me with excitement.