---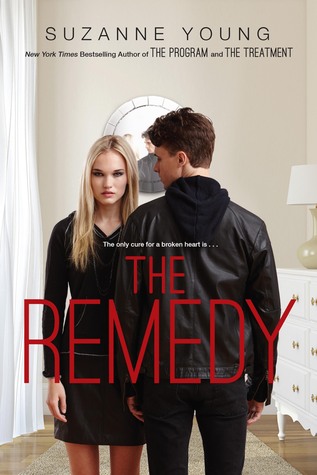 The Remedy
Author:
Suzanne Young
The Program #0.5
Reading Level: Young Adult
Genre: Science Fiction
Released: April 21st 2015
Review Source: Simon Pulse
In a world before The Program…

Quinlan McKee is a closer. Since the age of seven, Quinn has held the responsibility of providing closure to grieving families with a special skill—she can "become" anyone.

Recommended by grief counselors, Quinn is hired by families to take on the short-term role of a deceased loved one between the ages of fifteen and twenty. She's not an exact copy, of course, but she wears their clothes and changes her hair, studies them through pictures and videos, and soon, Quinn can act like them, smell like them, and be them for all intents and purposes. But to do her job successfully, she can't get attached.

Now seventeen, Quinn is deft at recreating herself, sometimes confusing her own past with those of the people she's portrayed. When she's given her longest assignment, playing the role of Catalina Barnes, Quinn begins to bond with the deceased girl's boyfriend. But that's only the beginning of the complications, especially when Quinn finds out the truth about Catalina's death. And the epidemic it could start.
How can I put together thoughts after finishing
The Remedy
? How? Suzanne Young you went beyond my expectations with this one.
Its been days since I've read
The Remedy
and the story still lingers. This is by far my favorite book of the series. I need more. I need more like my life depends on Suzanne's words.
Seriously, I was blown away. I cried. Boy, did I cry. This one had me bawling like with "A Child Called It". I laughed. HA! With the many tears I cried, who would've thought the same book could make me laugh. But God, the tears.
The grief and sorrow Quinn goes through impersonation Catalina's life… God. I never enjoy such misery. Such a bittersweet taste. When you read The Remedy, you will transformed into Quinn. I know I did. The more she learned about Catalina's life, the more I wanted to be her. It's an addiction. It was so easy to connect with her.
I loved Quinn. She is bright and very much dedicated to her job. No matter how sick her job is. Like who in their right mind wants to take role of a deceased loved one? Just to have the family say goodbye one last time. I wouldn't be able to deal with this. And now with her new case, Quinn needs to deal with a boyfriend. This had her out of control. Having a boyfriend. Not even in her "real" life did she ever have a boyfriend. This one role was already hard for her. To add an additional person to help cope... was something she did not expect. But OMG… Isaac.
God, Isaac. His devotion towards Catalina was so beautiful. At such young age, he mourned for someone so dear. How he blamed himself for her death…. I am crying. This one scene with Isaac broke me to pieces. I was a puddle of tears.
If I go on, I will spoil the story.
Bravo Suzanne, bravo. With the twist and turn of the story, I was pulling my hair out.
The Remedy
surely blow me away. It was truly something I did not expect. It knocked me out and I was left in awe.
The Remedy
is a MUST read.
P.S. Suzanne - This one will be hard to top. Now hit me with your best shot. Give me more of this crazy and heartbreaking world.
---
Part of our Blogoversary, one follower will win ARC copy of
The Remedy
by Suzanne Young (
signed
!!!)
Remember
by Eileen Cook
Open
INTERNATIONAL
Good Luck!
a Rafflecopter giveaway