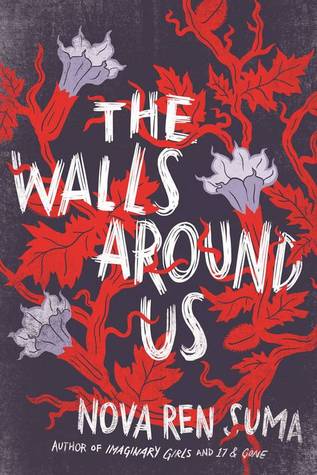 The Walls Around Us
Author:
Nova Ren Suma
Reading Level: Young Adult
Genre: Paranormal
Released: March 24 2015
Review Source: Algonquin Young Readers
"Ori's dead because of what happened out behind the theater, in the tunnel made out of trees. She's dead because she got sent to that place upstate, locked up with those monsters. And she got sent there because of me."

The Walls Around Us is a ghostly story of suspense told in two voices—one still living and one long dead. On the outside, there's Violet, an eighteen-year-old dancer days away from the life of her dreams when something threatens to expose the shocking truth of her achievement. On the inside, within the walls of a girls' juvenile detention center, there's Amber, locked up for so long she can't imagine freedom. Tying these two worlds together is Orianna, who holds the key to unlocking all the girls' darkest mysteries.

We hear Amber's story and Violet's, and through them Orianna's, first from one angle, then from another, until gradually we begin to get the whole picture—which is not necessarily the one that either Amber or Violet wants us to see.

Nova Ren Suma tells a supernatural tale of guilt and innocence, and what happens when one is mistaken for the other.
Three girls, all affected by one decision. Two of them, it will change their lives. One of them is just fine with where she is. A juvenile corrections facility is the setting, and one girl lives in the past while one is experiencing the future. When their two worlds collide it creates a cataclysmic effect.
Oh gosh....this book. There were so many times when I was guessing where the book was headed, and it would go the opposite way. There were times when I felt the story too predictable-but honestly it did that to keep you away from what was actually going on.
I had sticky notes filled throughout the book. One of them was this:
While the others were just saying how the book reminded me of certain movies and TV shows. I had also at one point explained to my aunt what was going on in my book and she thought that it sounded like The Others. This book drew inspiration from so many great films and television shows that, I believe, that is how this story thrived!
Honestly I would love to see this story turned into a movie, I feel that it could work well as a film. And I will be hoping and praying that it happens someday. There's not too much I can tell, without giving away anything. So with this I'm going to let you experience the book for yourself-but tell you that it is a great story!