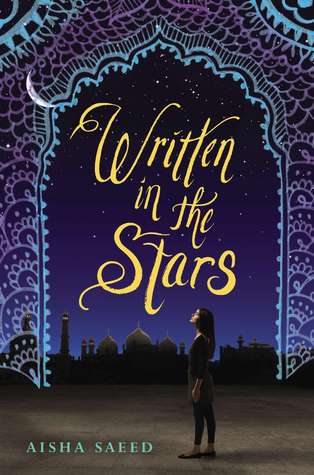 Written in the Stars
Author:
Aisha Saeed
Reading Level: Young Adult
Genre: Contemporary
Expected Release: March 24, 2015
Review Source: Nancy Paulsen Books
This heart-wrenching novel explores what it is like to be thrust into an unwanted marriage. Has Naila's fate been written in the stars? Or can she still make her own destiny?

Naila's conservative immigrant parents have always said the same thing: She may choose what to study, how to wear her hair, and what to be when she grows up—but they will choose her husband. Following their cultural tradition, they will plan an arranged marriage for her. And until then, dating—even friendship with a boy—is forbidden. When Naila breaks their rule by falling in love with Saif, her parents are livid. Convinced she has forgotten who she truly is, they travel to Pakistan to visit relatives and explore their roots. But Naila's vacation turns into a nightmare when she learns that plans have changed—her parents have found her a husband and they want her to marry him, now! Despite her greatest efforts, Naila is aghast to find herself cut off from everything and everyone she once knew. Her only hope of escape is Saif . . . if he can find her before it's too late.
Ever since first grade, my best friend has been a pretty awesome girl named Mariam. She wasn't allowed to spend the night at my house, she couldn't date anyone, and wasn't allowed to go anywhere without her dad freaking out. Mariam was different from a lot of the other students at my school...she is Muslim.
Instantly upon reading this wonderful story, I could connect with Naila's story. I saw her in my friend. I was the one who would beg and plead for her to stay at my house. Mariam didn't have an arranged marriage, but her cultural differences made it pretty difficult to have a boyfriend. There were times when my heart would break for Naila. I wanted so badly to hold her hand and stick up for her to her parents. When her family leaves for Pakistan, it reminded me so much of another book I've just read, Rebels by Accident by Patricia Dunn. In both books they are forced to visit their parent's homeland in search of their cultural backgrounds.
It was really interesting to delve into another culture that's totally different from mine. Saeed did an awesome job describing the scenery of Pakistan. I could imagine myself walking side-by-side with Naila in the beautiful atmosphere she created. The story was beautifully written and it created delightful pictures in my head. The suspense was right on and the characters were well written. This book touched on issues that a lot of people still face today. I could see both sides of the story and wanted so badly for Naila to be able to reach her dreams.
Overall, I really enjoyed this book. I would recommend this one to the middle school girls I teach. There is no way they would let their parents pick their husband. Saeed is the Vice President of Strategy for the campaign We Need Diverse Books and I can see why. I hope to read more from this author.