---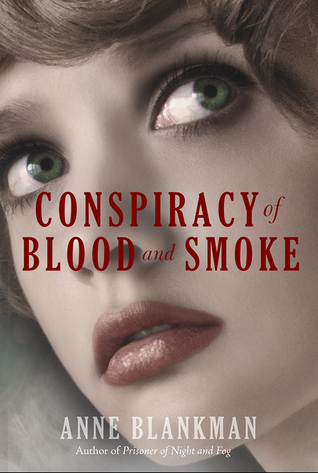 Conspiracy of Blood and Smoke
Prisoner of Night and Fog #2
Author: Anne Blankman
Reading Level: Young Adult
Genre: Contemporary
Released: April 21st 2015
Review Source: Balzer + Bray
The girl known as Gretchen Whitestone has a secret: She used to be part of Adolf Hitler's inner circle. More than a year after she made an enemy of her old family friend and fled Munich, she lives with a kindly English family, posing as an ordinary German immigrant, and is preparing to graduate from high school. Her love, Daniel Cohen, is a reporter in town. For the first time in her life, Gretchen is content.

But then, Daniel gets a telegram that sends him back to Germany, and Gretchen's world turns upside-down. And when she receives word that Daniel is wanted for murder, she has to face the danger she thought she'd escaped-and return to her homeland.

Gretchen must do everything she can to avoid capture and recognition, even though saving Daniel will mean consorting with her former friends, the Nazi elite. And as they work to clear Daniel's name, Gretchen and Daniel discover a deadly conspiracy stretching from the slums of Berlin to the Reichstag itself. Can they dig up the explosive truth and get out in time-or will Hitler discover them first?
---
Deleted Scene
I'm not going to lie: I enjoy reading a romantic sexytimes scene. Who doesn't, right? So when I started writing Conspiracy of Blood and Smoke, I thought a lot about whether or not Gretchen and Daniel would do the deed. After all, by the time the sequel opens, they've been together for almost a year and a half and, more importantly, they genuinely love each other. When I discussed it with my editor, though, we decided an intimate scene between the two characters wouldn't ring true, given the time period they're living in and everything they're going through during the book. So, just for all of you reading this post, I decided to write an extra scene. When you read the book, it should be easy to figure out exactly where this part would happen. Without further ado, here's what I think the first time between Gretchen and Daniel would be like …
"Did you mean what you said before—about loving me?" He looked up, the intensity in his eyes surprising her.
"Of course. Daniel," she said when he let out a loud sigh and looked down, the muscles in his throat working as he tried to swallow. "Don't you know I'll love you forever?"
For a moment, he didn't reply. "I wasn't sure," he said at last. "Nothing has seemed the same since we came to Berlin. There's been this new distance between us. I don't want to lose you." His voice shook. "I've already lost everything else. I can't bear being apart from you, but I can't figure out how to keep us together when we want such different things."
Something in Gretchen seemed to break. She pressed her face into the warm curve of his neck, breathing him in. He was solid and alive and here with her, although death surrounded them on all sides. In an instant, either of them could be dead, cut down as suddenly as Fräulein Junge had been. Daniel's eyes would glaze over, his chest would stop rising and falling, his body turned to a shell.
One second, and they would be gone. If life was so precious, why should they deny each other their love? Everything that she had thought was so important was still important—jobs and families and schooling and friends—but somehow she couldn't bring herself to care how they would work them out. All she was knew was a life without Daniel would be a half-
life. His absence would turn the world gray.
She drew back and looked at him. In the dimness of the bedroom, his face seemed grave. But beautifully familiar, each part of him that she memorized long ago: the glimmers of gold in his brown eyes, the sharp sweep of his jaw, the curve of his mouth. She laid her hand on his cheek, so she could feel the heat of his skin.
"Daniel," she whispered, "you're the miracle of my life."
He smiled then, such a free, easy smile that she felt her heart expanding in her chest until she thought her ribs would break. When he pressed his lips to hers, the room seemed to fall away, and the police wagons rumbling over the cobblestones; the swastika banners snapping in the breeze; the prostitutes snorting cocaine; the thunder of Hitler's voice in the Sportpalast; the tinkle of glass as SA men smashed shop windows. I don't want to forget anything, she'd thought when the prostitutes had offered her the white power, and as she twined her arms around Daniel's neck, she knew she had been right. She didn't want to forget anything, the beautiful and the blessed, the painful and the pitiless, none of it, because each moment had molded her into the person she was now and had brought her to this place with her lips on Daniel's in a kiss that seemed to go on and on.
The silver-lined darkness closed around her and Daniel until she was aware only of his hands and mouth. When the pain came, she had expected it, but she hadn't known how sharp and sudden it would be. She gasped out Daniel's name.
"I'm here." He kissed the side of her face. "I'll be right beside you, always."
They moved past the pain until her insides were coated with gold. No more alone and unsure, but connected and stronger. She stopped struggling against herself and surrendered at last.
---
Anne Blankman may have been meant to be a writer because her parents named her for Anne of Green Gables. She grew up in an old house with gables (gray, unfortunately) in upstate New York. When she wasn't writing or reading, she was rowing on the crew team, taking ballet lessons, fencing and swimming. She graduated from Union College with degrees in English and history, which comes in handy when she writes historical fiction.
After earning a master's degree in information science, Anne began working as a youth services librarian. Currently, she lives in southeastern Virginia with her family. When she's not writing young adult fiction, she's playing with her daughter, training for races with her husband, working at her amazing library branch, learning to knit (badly), and reading.
Anne Blankman is the author of PRISONER OF NIGHT AND FOG, the first in a three-book deal slated for publication in spring 2014 from Balzer + Bray | HarperCollins. She is represented by Tracey Adams of Adams Literary.
GRAND PRIZE: Win a signed ARC of PRISONER OF NIGHT AND FOG and a signed ARC of CONSPIRACY OF BLOOD AND SMOKE (US Only)
FIRST PRIZE: Win (1) of (2) signed ARCs of CONSPIRACY OF BLOOD AND SMOKE (US Only)
a Rafflecopter giveaway