---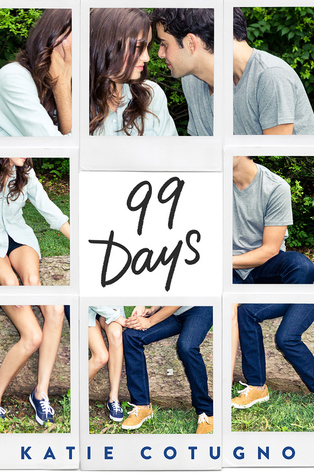 99 Days
Author:
Katie Cotugno
Reading Level: Young Adult
Genre: Contemporary | Romance
Released: April 21st 2015
Review Source: Balzer + Bray
Day 1: Julia Donnelly eggs my house my first night back in Star Lake, and that's how I know everyone still remembers everything—how I destroyed my relationship with Patrick the night everything happened with his brother, Gabe. How I wrecked their whole family. Now I'm serving out my summer like a jail sentence: Just ninety-nine days till I can leave for college, and be done.

Day 4: A nasty note on my windshield makes it clear Julia isn't finished. I'm expecting a fight when someone taps me on the shoulder, but it's just Gabe, home from college and actually happy to see me. "For what it's worth, Molly Barlow," he says, "I'm really glad you're back."

Day 12: Gabe got me to come to this party, and I'm actually having fun. I think he's about to kiss me—and that's when I see Patrick. My Patrick, who's supposed to be clear across the country. My Patrick, who's never going to forgive me.
Man oh man, 99 Days was one big mess of a love triangle, and strangely enough I loved every minute of it. Molly Barlow has 99 days left of summer to survive a town and the people in it that seem to absolutely loathe her for what she had done a year prior.
Molly got herself in major pickle when she cheated on her boyfriend with his brother, whose family she was basically a part of, you know until she got herself in this pickle. But you may ask yourself, how does the entire town know about this little indiscretion? Well her mother wrote a bestseller, marketing off the idea of her daughter's messy love life, and when an article came out revealing the truth behind the new book, everyone find out, and everyone was pissed.
So naturally I'm not a fan of cheating and love triangles and this book had a ton of both, BUT everything throughout this story had me enthralled from the very beginning. I needed to know how this girl was going to work out her mess out, I needed to know who she would end up (if anyone), and I just wanted her happy. But the best part of this book was the people defending her, when people were slut shaming her; you had people saying "well it doesn't take two to tango." The awareness of slut shaming and the double standards played a big part in this, and that was something you don't see often, so with some of the messy stuff you had people questioning why the guy was getting off scotch free yet the girl was getting the extreme brut of all the bullying.
So if you don't like love triangles, and are turned off from cheating, this one won't be for you, but I believe it deserves a chance. I was invested in this girl's messy life, and rooted for her to put her big girl pants on and figure out what she truly wants.