---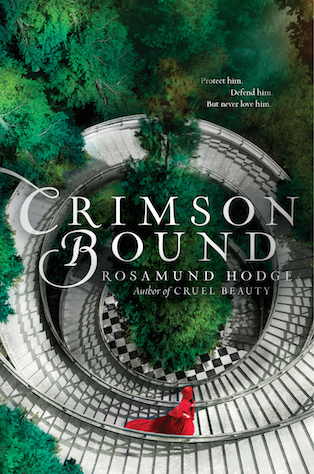 Crimson Bound
Author:
Rosamund Hodge
Reading Level: Young Adult
Genre: Fantasy | Retellings
Released: May 5th 2015
Review Source: Balzer + Bray
When Rachelle was fifteen she was good—apprenticed to her aunt and in training to protect her village from dark magic. But she was also reckless— straying from the forest path in search of a way to free her world from the threat of eternal darkness. After an illicit meeting goes dreadfully wrong, Rachelle is forced to make a terrible choice that binds her to the very evil she had hoped to defeat.

Three years later, Rachelle has given her life to serving the realm, fighting deadly creatures in an effort to atone. When the king orders her to guard his son Armand—the man she hates most—Rachelle forces Armand to help her find the legendary sword that might save their world. As the two become unexpected allies, they uncover far-reaching conspiracies, hidden magic, and a love that may be their undoing. In a palace built on unbelievable wealth and dangerous secrets, can Rachelle discover the truth and stop the fall of endless night?

Inspired by the classic fairy tale Little Red Riding Hood, Crimson Bound is an exhilarating tale of darkness, love, and redemption.
You guys, this book right here is definitely opening my eyes to how AMAZING fantasy books are. Since I'm still new(
ish
) to the book world, I'm still trying to get a feel for all the genres, what I do like, what I don't like, and what I need to read more of to figure it out. And Rosamund Hodge is definitely opening my eyes to the world of fantasy and fairy tale retellings, and I need more.
Stat
.
Crimson Bound
, a red-riding hood retelling about a girl Rachelle whose main goal in life is to destroy the Devourer before he rises again and turns the whole world to eternal darkness. At 15 she tempts fate by entering into the dark forest, tempting her luck, which eventually runs out and she is bound to the forest, to the evil she wants to destroy.
Now fast forward three years and Rachelle has been marked by the great forest and is fighting the deadly creatures, until the King orders her to serve as his son's, Armand, guard. The two become allies in attempt to save their world from eternal greatness, but in this world do you really know who you can trust?
Alright, so let's get real here, this book was amazing, Hodge's debut book
Cruel Beauty
was amazing, and I cannot wait to get more amazing stories from her. The world she has created in
Crimson Bound
is unbelievable, the story is dark, the world is complex, and her characters are always keeping you on your toes, I never knew who to trust. It won't take you long before you're completely emerged into this world and that's all you can see, just like the eternal darkness taking over their world,
Crimson Bound
will take over yours.
So basically you need to buy this.
Now
. And
Cruel Beauty
while you're at it (if you haven't already). I'll be honest with you, I bought Cruel Beauty just because the cover was phenomenal, I just had to have it on my shelf and it was my best decision. Rosamund Hodge creates a dark retelling of our favorite fairytales, and does it justice. So if you're a fantasy lover, fairytale retellings lover, or a lover of damn good book, pick up
Crimson Bound.