---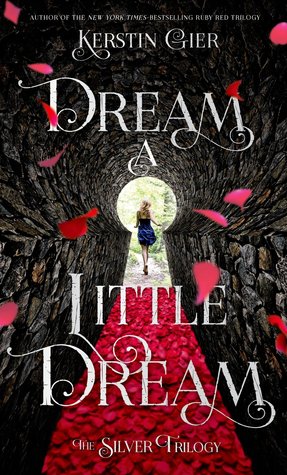 Dream A Little Dream
The Silver Trilogy #1
Author:
Kerstin Gier
Reading Level: Young Adult
Genre: Fantasy
Released: April 14 2015
Review Source: Henry Holt and Co.
Mysterious doors with lizard-head knobs. Talking stone statues. A crazy girl with a hatchet. Yep, Liv's dreams have been pretty weird lately. Especially this one where she's in a graveyard at night, watching four boys perform dark magic rituals.

The really weird thing is that Liv recognizes the boys in her dream. They're classmates from her new school in London, the school where's she's starting over because her mom has moved them to a new country (again). But they seem to know things about her in real life that they couldn't possibly know, which is mystifying. Then again, Liv could never resist a good mystery. . . .
Liv's world gets flipped upside down when her mother meets a man. This man who might become her step-father and has two children of his own. Things only get weirder as her dreams revolve around her soon to be step-brother and his group of friends. She must figure out what these dreams mean and if these boys also remember these dreams.
I'm not sure this was my cup of tea. I enjoyed the concept, and I liked where the story went, but I just wasn't as gripped with the story as I expected to be. I think it might be because I am such an avid fan of Gossip Girl that whenever a story throws in an aspect that is like Gossip Girl, it tends to take me out of the story. I only want Gossip Girl to have a Gossip Girl. While Dream A Little Dream had Secrecy instead of Gossip Girl I still completely felt like it was Gossip Girl.
I loved Liv's reaction to this dream world. I feel like the first thing I would do was make a journal, such as she did. Although I wouldn't of woken myself up every hour on the hour, but that's the dedication that Liv had. And honestly it was believable, to me, that she would wake herself up and write in this journal. I also liked her spunk, she didn't let anyone really tell her what to do--except herself. I like a girl like that, mainly because it reminds me of myself!