---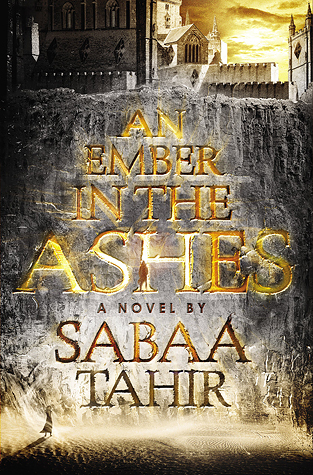 An Ember in the Ashes
Author: Sabaa Tahir
Reading Level: Young Adult
Genre: Fantasy
Released: April 28th 2015
Review Source: Razorbill
Set in a terrifyingly brutal Rome-like world, An Ember in the Ashes is an epic fantasy debut about an orphan fighting for her family and a soldier fighting for his freedom. It's a story that's literally burning to be told.

LAIA is a Scholar living under the iron-fisted rule of the Martial Empire. When her brother is arrested for treason, Laia goes undercover as a slave at the empire's greatest military academy in exchange for assistance from rebel Scholars who claim that they will help to save her brother from execution.

ELIAS is the academy's finest soldier—and secretly, its most unwilling. Elias is considering deserting the military, but before he can, he's ordered to participate in a ruthless contest to choose the next Martial emperor.

When Laia and Elias's paths cross at the academy, they find that their destinies are more intertwined than either could have imagined and that their choices will change the future of the empire itself.
I cannot express enough how much I loved this book!
Like the words of George R.R. Martin - even an ember in the ashes can still ignite a great blaze. With An Ember in The Ashes expect to be blown away. This book has it all. Most of all, it doesn't hold on when it comes to brutality.
Right from the beginning this book will keep you turning pages. It starts with a bang and all you can say is - WTF? Trust me, your mouth will be hanging. The fast-pace continues as the story carries on and boy - the dark twists and thrilling turns will keep you on your toes.
Okay so the story goes alternates between Laia and Elias. We learn from them The Empire of this world is brutal. They killed for lands, they killed for power. They killed those that offended them and indiscriminately kill the Scholars. Yet these two were raised differently. Laia is a Scholar, while Elias is the finest soldier at Blackcliff Military Academy. And when you learned the truth of why he is here then your heart will break. Actually, your heart will break for both. They will find themselves at the Academy, with goals on their own but somehow they will be connect with one another and try and conquer.
Gosh, I wish I could tell you the story but I do not want to spoil it! It is sooo good. Great adventures, non-stop actions, the betrayals, the twists and turns, trust me, you do not want to miss this read! What are you waiting for? Go and pre-order it now! This ember in the ashes sure did ignite a great blaze!!