---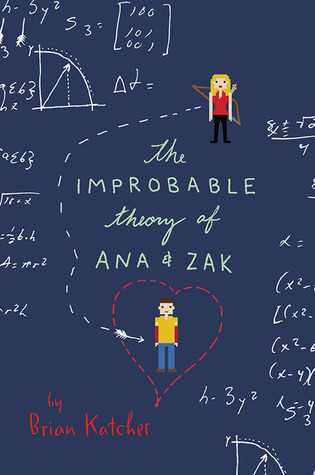 The Improbable Theory of Ana and Zak
Author:
Brian Katcher
Reading Level: Young Adult
Genre: Contemporary
Released: May 19th 2015
Review Source: Katherine Tegen Books
The Improbable Theory of Ana and Zak is Stonewall Book Award-winning author Brian Katcher's hilarious he said/she said romance about two teens recovering from heartbreak and discovering themselves on an out-of-this-world accidental first date.

It all begins when Ana Watson's little brother, Clayton, secretly ditches the quiz bowl semifinals to go to the Washingcon sci-fi convention on what should have been a normal, résumé-building school trip.

If slacker Zak Duquette hadn't talked up the geek fan fest so much, maybe Clayton wouldn't have broken nearly every school rule or jeopardized Ana's last shot at freedom from her uptight parents.

Now, teaming up with Duquette is the only way for Ana to chase down Clayton in the sea of orcs, zombies, bikini-clad princesses, Trekkies, and Smurfs. After all, one does not simply walk into Washingcon.

But in spite of Zak's devil-may-care attitude, he has his own reasons for being as lost as Ana-and Ana may have more in common with him than she thinks. Ana and Zak certainly don't expect the long crazy night, which begins as a nerdfighter manhunt, to transform into so much more…
Do you love going to comic conventions? Do your friends think you're weird? If you know you're geeky, then The Improbable Theory of Ana & Zak is perfect for you!
Have you ever given something that you are not familiar a try? For example, if you don't read fantasy book, have you ever given a try? Or have you ever decided to go camping? Like real camping, without the air-conditioned cabin. If you haven't given a try to something that you haven't dare to, then I think you should. You never know if this will be your new passion.
Ana Watson is the perfect student. She studies hard, signs up for extra curriculum, but she does this without having the passion. See she is the serious type. The type of girl that doesn't try to enjoy life.
Then there is Zak Duquette. The clown of the school. Don't get me wrong, he is smart. But life has thrown him lemons and he is making the best lemonades out it. He tries to enjoy his life for the most part. Though he gets himself in trouble.
As Zak is forced to join the quiz bowl to gain credit that he needs to graduate, he realizes he will be missing out on his yearly Washingcon sci-fi convention. Sure this may be just an event but to Zak, this convention is his life. It has meaningful memories and he will be missing out.
When you put Ana and Zak in a room together, believe me there will be storm. These two are different from each other. But as Ana Watson's little brother, Clayton escape to go to the con, these two must work together to find him. What they don't know is that they will learn from each other and become different people.
Honestly, I really enjoyed this, more than I thought I would. It was funny, cute, and had geeky references in which I can relate to. So if you're looking for a good one-sitting read while laughing here and there, then you should give The Improbable Theory of Ana and Zak a try.