---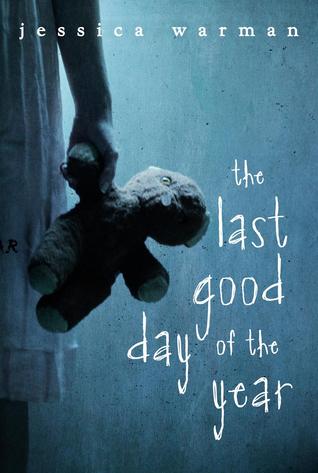 The Last Good Day of the Year
Author:
Jessica Warman
Reading Level: Young Adult
Genre: Contemporary
Released: May 19th 2015
Review Source: Bloomsbury USA Childrens |
ReadingTeen
The signs are everywhere, Jory's stepfather, Caleb, says.Red leaves in the springtime. Pages torn from a library book. All the fish in the aquarium facing the same way. A cracked egg with twin yolks. Everywhere and anywhere. And because of them Jory's life is far from ordinary. He must follow a very specific set of rules: don't trust anyone outside the family, have your works at the ready just in case, and always, always watch out for the signs. The end is coming, and they must be prepared.

School is Jory's only escape from Caleb's tight grasp, and with the help of new friends Jory begins to explore a world beyond his family's farm. As Jory's friendships grow, Caleb notifies Jory's mother and siblings that the time has come for final preparations.

They begin an exhausting schedule digging a mysterious tunnel in anticipation of the disaster. But as the hold gets deeper, so does the family's doubt about whether Caleb's prophecy is true. When the stark reality of his stepfather's plans becomes clear, Jory must choose between living his own life or following Caleb, shutting his eyes to the bright world he's just begun to see.
I went back and forth with this one - honestly, this didn't work for me. At all. It was less than an okay read. Somewhat irritating. Unfortunately, instead of getting a thrilling novel, in which I was excited to read, I read a full novel full of details not pertaining to the "mystery" of the abduction. With no plot development. Instead, only the last 10 pages of the book tells you exactly what happens.
The premises of the story sounds like a heartbreak. A family that is shattered after someone abducted their younger daughter. I honestly believed I would get something like The Lovely Bones. Nope, it was more like the family didn't exist anymore. Everyone went their own way. And this book tells you how Sam view them.
The story is told in Sam's perspective - the past and the present. Which makes the reader, well me, wonder WHY? Why tell us about a mother life? I wanted to know about the abduction. Why was she taken from her family? Why in this small town, would people blame an innocent man for this action without enough evidences?
I almost DNF this book but I was stubborn enough to finish to see if it was ever going to tells us what happened to Sam's sister, Turtle. I wonder if Sam was ever going to either tell the truth whether she really kept her eyes shut while knowing someone was taking her sister or if she really didn't know who was responsible for this.
With this said, I do have to admit the last 10 pages were thrilling. My first words when things started to pick up: FINALLY! Only to notice the book was about to end.
Thanks for the copy Andye!