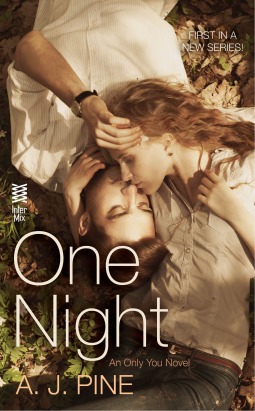 One Night
Only You #1
Author:
A.J. Pine
Reading Level: New Adult
Genre: Contemporary
Released: April 21, 2015
Review Source: InterMix
When she lost it all, Jess decided to cope by living a lie.

But you can't keep on pretending forever…

Twenty-one-year-old Jess used to have everything—a loyal best friend, a boyfriend she loved, and a future that was right on track. But in a single night, her whole world changed.

Now, Jess lives for the impersonal connection of drunken hook-ups and to-go coffee cups in the morning. All she needs is one night to pretend everything is fine…until she meets Adam.

Thanks to a sports injury, gorgeous, charming basketball star Adam Carson is stuck in physical therapy at the hospital where Jess interns—giving her the perfect opportunity to see his sweet, considerate nature and making her realize that maybe she does want something more.

But while Adam might be the best thing that's happened to Jess in a long time, letting him past her carefully constructed walls means letting him know what happened...and why he'd never want her for more than one night.
Jess lives in the past. A past that left her completely damaged, so now she copes with one night stands. In comes Adam, star basketball player, who's also a bit damaged himself. Can two damaged people find their way to each other's hearts? Or is this just disaster waiting to happen?
A.J. Pine has done it again. She's tugged at my heart. I really enjoyed reading Jess and Adam's story. The cute scenes were CUTE, the intense scenes were INTENSE, and the sexy scenes were SEXY! I will admit that sometimes Jess totally annoyed me. Her "I want you. No stay away from me. Come back. Go away." dilemma was totally annoying me. But, then PLOT TWIST, we find out what in her past is causing her to be so closed off, and that is when I totally get it. What she had to go through was tragic and I honestly don't know how one would deal with it. Adam, though, I fell in love with the second he was introduced. You will fall in love with him too, I promise! And, the supporting cast is not too shabby either. I LOVED Jess's roomie, Zoe! I'm really hoping the next installment in this series is about Zoe! Because, first she's awesome, and second because we might catch a glimpse of Jess and Adam again! (One Night is part of the Only You series, but can be read as a stand alone.)
So, don't let A.J. Pine off your radar, trust me! Pick up a copy of One Night soon and you'll see why!