---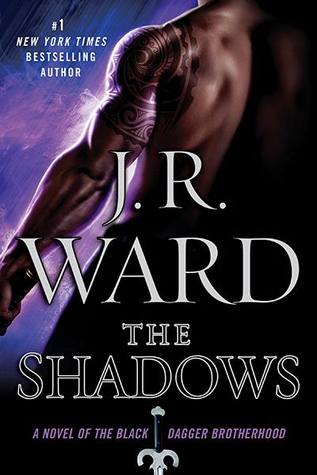 The Shadows
The Black Dagger Brotherhood #3
Author:
J.R. Ward
Reading Level: Adult
Genres: Paranormal Romance | Urban Fantasy
Released: March 31st 2015
Review Source: NAL & Purchased
The #1 New York Times bestselling author returns to the world of the Black Dagger Brotherhood as two brothers bound by more than blood fight to change a brutal destiny.

Sold by his parents to the Queen of the s'Hisbe as a child, Trez escaped the Territory and has been a pimp and an enforcer for years. On the run from a destiny of sexual servitude, he's never been able to rely on anyone...except for his brother, iAm.

iAm's sole goal has always been to keep his brother from self-destructing—and he knows he's failed. It's not until the Chosen Selena enters Trez's life that the male begins to turn things around...but by then, it's too late. The pledge to mate the Queen's daughter comes due, and there is nowhere to run, nowhere to hide, and no negotiating.

Now Trez must decide whether to endanger himself and others—or abandon the female he loves. When tragedy strikes and changes everything, iAm, in the name of brotherly love, is faced with making the ultimate sacrifice....
The 13th novel in
The Black Dagger Brotherhood
,
The Shadows
, which is about previously introduced characters, brothers Trez and iAm, who have worked for Rhevenge in his businesses, hit my Nook on March 31, 2015. Just like with most fans of the series I was ecstatic to see that it was on the longer side page wise. When you read a series in progress, and know you will have to wait for a period of time for the next book to come out, you just want to be able to prolong the experience for as long as you can. I will be completely honest though, after finishing
The King
, and learning that the next book was about
The Shadows
, I wasn't super excited. It's not that I didn't like the characters of Trez or iAm in the previous BDB books, it's just that I am a snob when it comes to the brothers and just want to read all about them. I'm usually that reader who will read fast through the stuff about the Lessers, Band of Bastards, or Assail to get back to what the brothers are doing. So for me, to read a whole book dedicated to characters who weren't the brothers, it triggered reluctance in me about getting into it. But with that said, when the book arrived in my Nook, I still was excited because I know J.R. Ward always includes supplemental story lines in all her books other than just the main one, so I knew the brothers would still be there in some capacity.
Boy was I blown away! This book was excellent! It really fleshed out the characters of Trez and iAm in a way that made me really care about them and what happened to them in a way that in past books it definitely did not. In the past we just knew them in connection to Rhevenge and Xhex, but didn't know the personalities and struggles behind them. There is a story between Trez and The Chosen Selena, and a story between iAm and a member of the S'Hisbe, aka someone in their shadow community. This book simply has it all. There is deceit, drama, action, love, sexiness, and…immense sadness. But J.R. Ward leads us on a journey to show us how one comes out on the other side better for what they had experienced. I will admit that I cried like a baby towards the end of this book but that isn't to say that there aren't happy endings. Ward showed us that even though the happy ending some characters and readers may want isn't necessarily the one they get, it still works out the way it should.
There is also the usual side stuff with the Lessers, the Band of Bastards (Xcor and Layla), and we even see a bunch of Rhage's POV which I believe is Ward's way of setting up the next book,
The Beast
, which we can safely assume will be his book (plus she seems to be sticking with her initial order and since
The King
was second round for Wrath, Rhage would be next). Rhage is definitely struggling with something that we aren't really clear on in this book, but like I said…she will probably delve into that in the next book.
All in all I would have to give this book a 5 star rating. I went into it not super excited because with the introduction of all these new characters I don't want to move further and further away from the original brothers, but Ward has done it again. She has managed to incorporate some new blood (pun intended) into the series without taking away what originally made us all fall in love with it in the first place. Just like with the Rhevenge book before them, I welcome Trez and iAm into the family and mansion, and hope they will be part of the story for a long time to come.
---
I am 100% on board with everything Pauline said about
The Shadows
. I also wasn't expecting to be blown away by this novel since I knew it wasn't focused on the Brothers, but sure enough The WARDen has once again cast her magically prose and made us fall just as hard for these non-Brothers.
I'm not sure how many readers are left out there that haven't started this series. If you read adult fiction and love paranormal romance, then your seriously way behind on your reading. This series should be a staple in your reading repertoire. Whatever it cost or how ever many book are printed, this series is worth every second of your reading time. I continue to say that
The Black Dagger Brotherhood
is my ALL-TIME favorite adult series. It's the series that keeps on giving.