---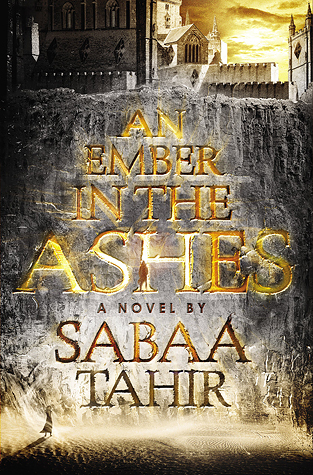 An Ember in the Ashes
Author: Sabaa Tahir
Reading Level: Young Adult
Genre: Fantasy
Released: April 28th 2015
Publisher: Razorbill
Set in a terrifyingly brutal Rome-like world, An Ember in the Ashes is an epic fantasy debut about an orphan fighting for her family and a soldier fighting for his freedom. It's a story that's literally burning to be told.

LAIA is a Scholar living under the iron-fisted rule of the Martial Empire. When her brother is arrested for treason, Laia goes undercover as a slave at the empire's greatest military academy in exchange for assistance from rebel Scholars who claim that they will help to save her brother from execution.

ELIAS is the academy's finest soldier—and secretly, its most unwilling. Elias is considering deserting the military, but before he can, he's ordered to participate in a ruthless contest to choose the next Martial emperor.

When Laia and Elias's paths cross at the academy, they find that their destinies are more intertwined than either could have imagined and that their choices will change the future of the empire itself.
A letter from Sabaa Tahir.
Dear Readers,
Today, my "baby" AN EMBER IN THE ASHES is finally out in the world! From inception to pub date, this journey took eight years. And what a journey it was: writing, rewriting, revising, editing, querying, submitting; Meeting other debuts, bloggers, booksellers and librarians, and hearing their thoughts on EMBER. There aren't enough superlatives to describe the radness.
And now, the book is here! I am so excited to see it in the hands of readers. I hope you enjoy reading it as much as I enjoyed writing it. To celebrate release day, I'm giving away two signed, first-edition hardcovers of the book. Details below!
All my best,
Sabaa
Click the image below to ORDER!
---
Spent my childhood in the Mojave Desert, where I didn't have cable and thus chose to entertain myself with books and radio. My parents assured me that I wanted to become a doctor, but a brief stint working in a hospital changed my mind.
I left the desert for university at 17, graduated from UCLA a few years later, and went to work for The Washington Post directly after. Five years later, I left the Post and started working on a book.
If I could be anything, I'd be a space explorer, but a cool one, like Jean-Luc Picard.
2 winners will receive a signed hardcover of AN EMBER IN THE ASHES. US Only.
3 winners will receive a hardcover of AN EMBER IN THE ASHES and a Sword Letter Opener! US Only.
a Rafflecopter giveaway