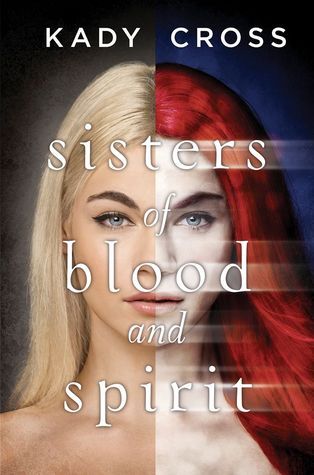 Forged
Sisters of Blood and Spirit #1
Author:
Kady Cross
Reading Level: Young Adult
Genre: Dystopia
Released: March 31st 2015
Review Source: Harlequin Teen
Wren Noble is dead—she was born that way. Vibrant, unlike other dead things, she craves those rare moments when her twin sister allows her to step inside her body and experience the world of the living.

Lark Noble is alive but often feels she belongs in the muted Shadow Lands—the realm of the dead. Known as the crazy girl who talks to her dead sister, she doesn't exactly fit in with the living, though a recent suicide attempt and time in a psych ward have proved to her she's not ready to join her sister in the afterlife.

Now the guy who saved Lark's life needs her to repay the favor. He and his friends have been marked for death by the malevolent spirit of a vicious and long-dead serial killer, and the twins—who should know better than to mess with the dead—may be their only hope of staying alive.
I first heard about in Sisters of Blood and Spirit back in December. I believe I happened to stumble upon the cover and thought it was beyond gorgeous; Creepy with a touch of beautiful. Yes, I'm weird don't judge me. After reading the description I knew I had to read it. This was actually my very first Kady Cross book. I've had her Steampunk Chronicles series in my TBR for what seems like forever ago. After finishing Sisters of Blood and Spirit I'm that much more excited to start it.
The contrast between Lark and Wren is what balanced Sisters of Blood and Spirit for me. Lark has been dealt a pretty rough life-- with her sister being a dead, yet being able to talk to her made people think she was a bit crazy. A suicide attempt, a visit to the psych ward oh and your parents disowning you may be cause to acting like a grade a B. I honestly don't blame her. Wren on the other hand is falling helplessly in love with Kevin a medium. Some might think she's a bit naive at times, but I loved her loyalty to her sister from the start.
It's hard to describe exactly how I feel about this book on one hand I loved the plot and how everything was coming together. On the other hand I was left wanting a bit more from it. It might have to do with the fact that it was less than 300 pages and that it was basically the first in the series. I just hope that once the series moves along we learn a bit more about Lark and Wren's family history and maybe dive into the Shadowlands a bit more. I feel like there is so much more we can explore in there.
If you're looking for a bit of thrills and chills, a little action, some suspense and even a bit of romance Sisters of Blood and Spirit is probably the book for you. Besides the very small fault it had I really enjoyed Sisters of Blood and Spirit. I will definitely be picking up the next in the series to see what's to come.