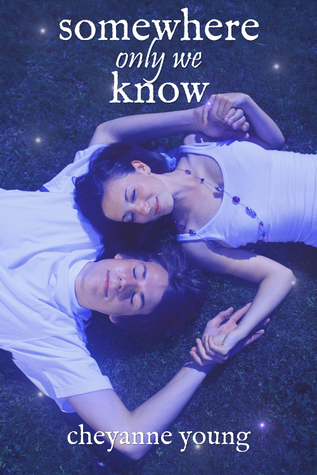 Somewhere Only We Know
Author:
Cheyanne Young
Reading Level: Young Adult
Genre: Contemporary
Released: June 15, 2014
Review Source: CreateSpace
Sadie Bradford's life is one anxiety attack after another. All she wants is to escape life's realities for the summer and hang out with her best friend Aaron. But her grandmother has other plans: Sadie will get a job. Sadie will do volunteer work. Sadie will make new friends - friends without brain injuries that make them forget everything...friends that aren't Aaron.

While Sadie struggles to survive her anxiety with all these new changes, she finds an escape when she dreams herself into the beautiful world of Isola Fiona. It's a place that cures memory loss and anxiety. It's a place where she and Aaron can fall in love.

But after dragging Aaron along with her to her dream world, things take a turn. Every time they return home, Sadie's anxiety is a little better but Aaron's memory is still gone. And Isola Fiona may not be much of a dream after all. As Sadie realizes that Isola Fiona is as real as her anxiety, she rushes to change the course of fate and make things right, but she may be too late...
Somewhere Only We Know was a very unique and eye-opening read for me. Sadie, our main girl, suffers from severe anxiety. The only person she feels comfortable around is Aaron, her best friend, who happens to have short-term memory loss. Then Sadie discovers a dream world, Isola Fiona, where things can be better. Where mental illnesses can be cured. Feelings and memories are brought back in this dream world, but in the real world Aaron still doesn't seem to remember.
Like I said, this was a very unique read for me. It goes deeper into mental illnesses than I expected it too. I have a family member who suffers from anxiety and I never really understood it, but as this was an eye-opener, I think I could understand better now. I liked the story, but I loved the characters. They were extremely well developed. *hint* If you check out Cheyanne Young's website you can see where Somewhere Only We Know stemmed from and it is beautiful!
The characters made the book and I love that I had the opportunity to read a great book!