---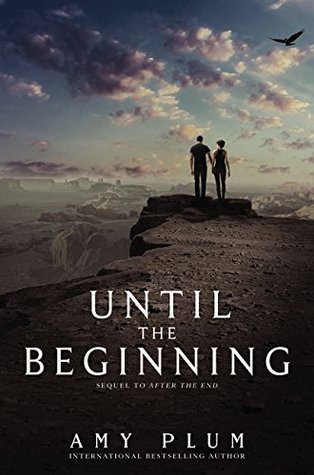 Until the Beginning
After the End #2
Author: Amy Plum
Reading Level: Young Adult
Genre: Science Fiction
Released: May 5th 2015
Review Source: HarperTeen
When Juneau's clan disappeared, she lost so much more than her friends and family. She soon discovered everything she thought she knew about her life was a lie. Her people's gifts were actually secret abilities that others wanted, desperately enough to kidnap an entire village.
Juneau and her new companion Miles's cross-country journey to find her clan has led them to a game preserve in New Mexico. Now Juneau's people are finally within reach, and she will stop at nothing to save them. But she has a target on her back too, because unbeknownst to her she is the key to unlocking everything. To rescue her people - and herself - Juneau must discover what she, and her abilities, are truly capable of.
Thank you Amy for not making this sequel hard to love! If you read After the End, then I know you're dying to know what happens to Miles. It wasn't fun knowing the book ended right where he was wounded. Would he survive? What will Juneau do?
Luckily, Until the Beginning picks right where the first one ends. So finding out what happens to Miles, well let me just say he's in right hands. All thanks to the resourceful Juneau! Seriously, if you had a hard time liking her in After the End, then you will definitely will love her now! Hands down, it was a great ending and easy to love.
If you're wondering if you should read the sequel, I have to tell you it is a must read. As a duology - Until the Beginning was written well-paced. No rush and everything is covered. From action to revelations to revenge to everything in between, Juneau and Miles cover so much. Their relationship grows intense, with so many things to learn and discover. Yet, these two will make you smile with few sweet moments they shared. Yeah, their rescue mission turns to another new level! Not only will they keep you on your toes but they will also make you swoon!
Until the Beginning was fun, I enjoyed following Juneau and Mile's adventures. Trust me, this duology will not disappoint!