---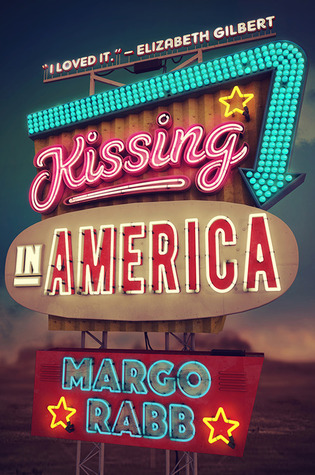 Kissing in America
Author: Margo Rabb
Reading Level: Young Adult
Genre: Contemporary
Released: May 26th 2015
Review Source: HarperTeen
I loved romances because when you opened the first page, you knew the story would end well. Your heart wouldn't be broken. I loved that security, that guaranteed love.

In real life, you never knew the ending. I hated that.

Sixteen-year-old Eva has never been in love. But when she meets Will, everything changes. With him, her grief over her father's death fades, and she can escape from her difficult relationship with her mother. Then, without any warning, Will picks up and moves to California. So Eva—with the help of her best friend, Annie—concocts a plan to travel across the country to see him again. As they leave New York City for the first time and road-trip across America, they encounter cowboys, kudzu, and tiny towns without stoplights. Along the way, Eva and Annie learn the truth about love and all its complexities.
Kissing in America
has everything you'd ever want in a YA contemporary, from romance, to feminism, to diversity, to friendship, bumps in the road, and heartbreak. This book was just as cute as its cover (I know, don't judge a book by its cover, well do it, cause you'll be right about it in this case)!
So yes, as I admitted before, this cover was what initially drew me in, and then I read the synopsis and I knew I had to get my hands on this book. Eva is a sucker for romance novels, to the tune of 118 books, so she's always idealized the idea of falling in love and being swept off her feet. Eva's love for romance novels rubs her mother the wrong way since she believes, "That happiness only comes from romantic love is the biggest myth of or society. They're selling you a fantasy version of love. It's dishonest. Misleading. And untrue. Real love is a mess. Complicated. Not like this." Eva's mother is a women's rights activist, she teaches women's studies at a university, took baby Eva to rallies, and cheered on when a boy kissed Eva when she was three and she bit him, so Eva reading these romance novels is the ultimate rebellion in her mother's eyes.
Eva falls head over heels for a boy she tutors, he's always had a girlfriend, but they're relationship is real and true while in tutoring. Eva tells him things she never tells anyone, things she lies about because it makes it easier, easier for people to understand and easier for her to cope with. So when her crush unexpectedly moves to across the coast, Eva is determined not to lose what she hopes is true love. So Eva and her best friend conjure up a plan to travel across country to see Will.
This book was everything! It had everything you want and need in a contemporary all rolled up in one. Halfway through this book I started to get a little nervous with how it was going to pan out, how the ending would be, but it didn't turn out as I expected and I freaking loved it more because of it! The ending made me cry so many happy tears. The girl power had me crying happy tears, this book was just so touching, and I can't wait to own my hardback copy. So obviously if you love romance, romance novels, heartache, adventure, girl power, diversity, any of it or all of it, you're going to want to get your hands on this book.
---
Margo Rabb's stories have been published in The Atlantic Monthly, Zoetrope: All Story, Seventeen, Best New American Voices, New Stories from the South, New England Review, One Story, and elsewhere, and have been broadcast on National Public Radio. She received grand prize in the Zoetrope short story contest, first prize in The Atlantic Monthly fiction contest, first prize in the American Fiction contest, and a PEN Syndicated Fiction Project Award. She grew up in Queens, New York, and now lives in Austin, Texas with her husband and two children. A complete list of her published work can be found
here
.
Follow the Kissing in America AUDIO TOUR that Epic Reads is hosting. You can win lots of prizes and hear excerpts from Margo Rabb's book. Click on the banner below to start following the AUDIO TOUR!
ENTER THE GIVEAWAY for a chance to win a SOUVENIR from EACH CITY!