---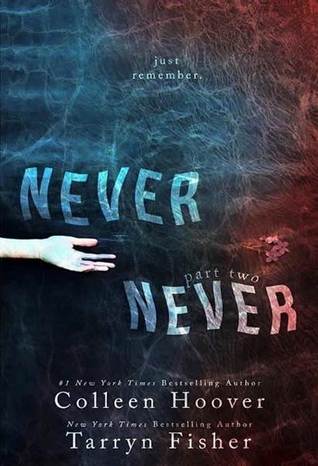 Never Never: Part 2
Never Never #2
Author:
Colleen Hoover
and
Tarryn Fisher
Reading Level: Young Adult
Genre: Romance | Mystery
Released: May 17th 2015
Silas races against time as more truths unravel, while others twist tighter together. "Where are you, Charlie?" Never Never: Part Two is the continuation of the Never Never series.
Alright, so we're back with our second installment of
Never Never
, and of course we're slowly uncovering more information, slowly unveiling the past they can't remember, and it's always teasing us. So I'm definitely not going to talk much about the plot because everything we uncover is something you need uncover yourself, you need to help find Charlie right along with Silas.
The element of this book with the characters losing their memories every 48 hours is so perfect for publishing this in a novella series. You tend to forget small details over time, so going back to a story you haven't picked up in a awhile to tend to forget small things, but you get to recover them slowly with Silas as he's going over notes, retracing the small steps. I've come up with a billion different theories of how this is going to end and I'm absolutely nervous with the outcome since Tarryn Fisher's hands are in the mixing pot.
"If it takes believing in dragons to find Charlie, then I'll be the first to wield a sword in the face of its fire."
Let's be real, if you're a fan of either Colleen or Tarryn you need to read
Never Never
, like now. A three part novella series that ignites that love/hate relationship you have with cliffhangers. Colleen and Tarryn have completely different writing styles but when they're brought together they create something different, mysterious, and completely exhilarating. One thing is for sure I can't wait till part 3 comes out and I can read all the parts together. Tell me your theories!
---
Colleen Hoover
is the #1 New York Times bestselling author of Slammed, Point of Retreat, This Girl, Hopeless, Losing Hope, Maybe Someday, Finding Cinderella, Ugly Love and Confess. She lives in Texas with her husband and their three boys.
Tarryn Fisher
is the New York Times and USA Today Bestselling Author of six novels. Her latest novel, Marrow, just released in April 2015 and she is currently working on the third installment of Never Never. She is the co-founder of the fashion blog Clothed Caption. Tarryn resides in the Seattle area with her family. She loves rainy days, Coke, and thinks Instagram is the new Facebook. Tarryn is represented by Amy Tannenbaum of the Jane Rotrosen Agency.
a Rafflecopter giveaway