Welcome to our stop on the
Under the Spotlight
tour for Angie Stanton. This is book three in
The Jamieson Collection
! This tour is hosted by
Inkslinger PR
.
---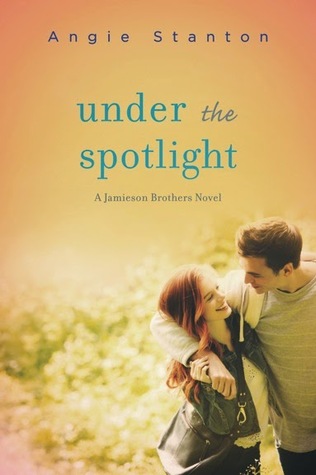 Under the Spotlight
Author: Angie Stanton
Reading Level: Young Adult
Genre: Contemporary
Released: May 5, 2015
Review Source: Harper Teen
After an embarrassing stint on a reality-TV music competition years ago, Riley vowed never to sing again. Now she's behind the scenes, working at the prestigious Sound Sync recording studio, and life is looking up. But then Garrett Jamieson, the oldest brother in the famous Jamieson brothers band, crashes into her world.

Garrett has hit rock bottom, and he is desperate to reinvent himself. After calling in a few favors, he ends up working at Sound Sync to learn the ropes of record producing from the industry's best. And he can't believe his luck when he discovers that Riley has been keeping a secret—she is an amazing singer. By producing her album, he's sure to top the record charts again. But Garrett is forced to use every trick in his arsenal to persuade the sassy girl to record.

Riley refuses to sing—or even entertain the thought of it—and sparks fly as Garrett finally meets his match. But in the heat of the moment, one stolen kiss changes everything. Will Riley be the first person to finally rein Garrett in, or will Garrett succeed in getting Riley back under the spotlight?
---
Under the Spotlight Playlist
By Angie Stanton
Many authors write or brainstorm to music, including myself. Music can transport us to another place, coaxing us to feel every emotion from great joy to devastating grief.
Here is my playlist for Under the Spotlight:
All of Me by John Legend
I still remember the first time I heard this song one day while writing. It came on the radio, and the lyrics jumped out at me. What would I do without your smart mouth? Drawing me in, and you kicking me out. Our heroine, Riley, is a spitfire and Garrett is attracted to her like a moth to a flame.
We are Young by Fun.
YOLO! Remember when this song came out? It was everywhere and the perfect anthem for living large, which is what Garrett does. We are young, so let's set the world and fire, we can burn brighter than the sun.
People Like Us by Kelly Clarkson
Don't you love Kelly Clarkson? This song is great. It's about people who have a tough situation in life, like our heroine, Riley Parks. Sometimes we want to throw in the towel because we've hit rock bottom, but this song gives such hope.
Fall for You by Second Hand Serenade
The best thing about tonight is we're not fighting…Garrett and Riley knock heads a lot and this song shows the journey from fighting to finding true love.
Teach Your Children by Crosby Stills Nash and Young
I came across a version of this song done by Hanson. Teach Your Children by Hanson. It's the three brothers singing around one microphone. I actually put this song in the book at a really emotional time. I've watched it many dozens of times while writing Under the Spotlight.
Back to December by Taylor Swift
Garrett is a handful to say the least. Eventually he comes to realize he's a jerk and this song epitomizes his apology.This is me swallowing my pride, standing in front of you, saying I'm sorry for that night.
---
Angie Stanton never planned on writing books—she wanted to be a Rockette. However, growing up in rural America with her brothers' 4-H pigs as pets, she found that dance didn't quite work out. Instead, she became an avid daydreamer. After years of perfecting stories in her head, she began to write them down, and the rest is history. When not writing, she loves watching natural disaster movies, going to Broadway musicals, and dipping French fries in chocolate shakes.
Giveaway: $25 Amazon Giftcard
a Rafflecopter giveaway