---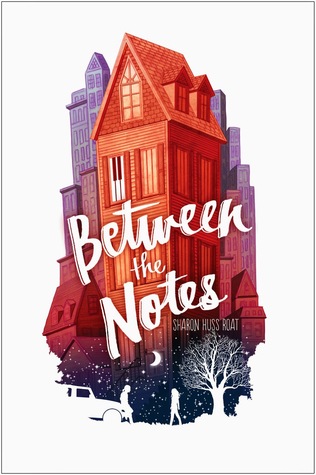 Between the Notes
Author:
Sharon Huss Roat
Reading Level: Young Adult
Genre: Contemporary
Release Date: June 16th 2015
Review Source: HarperCollins | Edelweiss
When Ivy Emerson's family loses their house—complete with her beloved piano—the fear of what's to come seizes her like a bad case of stage fright. Only this isn't one of her single, terrifying performances. It's her life.

And it isn't pretty.

Ivy is forced to move with her family out of their affluent neighborhood to Lakeside, also known as "the wrong side of the tracks." Hiding the truth from her friends—and the cute new guy in school, who may have secrets of his own—seems like a good idea at first. But when a bad boy next door threatens to ruin everything, Ivy's carefully crafted lies begin to unravel . . . and there is no way to stop them.

As things get to the breaking point, Ivy turns to her music, some unlikely new friends, and the trusting heart of her disabled little brother. She may be surprised that not everyone is who she thought they were . . . including herself.
I was attracted to this novel because one of my all time favourite series includes a boy from the wrong side of the tracks, and that just automatically compelled me to read this. Even though I was drawn to this story because of its familiarity, it was very different from what I usually read and from what I expected.
Ivy and her family loose everything and suddenly they can't afford their glorious house and everything in it. Ivy, like her siblings and parents, are forced to part with some of their most prized possessions and move to Lakeside. If it were only that simple. Lakeside has the reputation of being the "wrong side of the tracks", and Ivy suddenly finds herself hiding her new life from all of her friends, the cute new guy and the tension between herself and her family builds.
It was rewarding to read how of how girl can go from living the life of luxuries to having the bare minimal in life. She went from one side of the pole to the other in the blink of an eye, and though it was a hard adjustment period, in the end she became a much better person. She began to appreciate life and what she had. The little things like "don't judge a person by it's cover" and learning to discover the best version of yourself-- Ivy did that. She ditched the dead weight, appreciated her family, and invited new people into her life.
It's quite different from what I usually read but I don't regret reading it. It might just be one of my favourite reads of the year. And it's a book I won't forget. I feel motivated now to read more books like this, ones which are more than the romance, but more about personal discovery. Trust me, they'll give you a story to enjoy.