Welcome to our stop on The Wrath and the Dawn tour for Renée Ahdieh. This tour is hosted by
PenguinTeen
.
---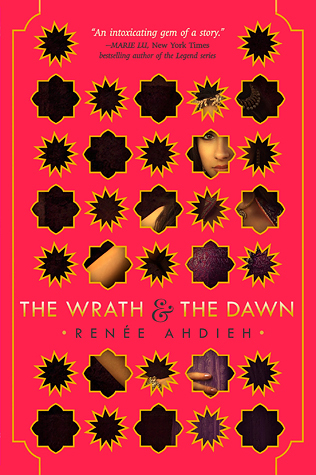 The Wrath and the Dawn
The Wrath and the Dawn #1
Author: Renée Ahdieh
Reading Level: Young Adult
Genre: Fantasy
Released: May 12th 2015
Publisher: Putnam Juvenile
A sumptuous and epically told love story inspired by A Thousand and One Nights

Every dawn brings horror to a different family in a land ruled by a killer. Khalid, the eighteen-year-old Caliph of Khorasan, takes a new bride each night only to have her executed at sunrise. So it is a suspicious surprise when sixteen-year-old Shahrzad volunteers to marry Khalid. But she does so with a clever plan to stay alive and exact revenge on the Caliph for the murder of her best friend and countless other girls. Shazi's wit and will, indeed, get her through to the dawn that no others have seen, but with a catch . . . she's falling in love with the very boy who killed her dearest friend.

She discovers that the murderous boy-king is not all that he seems and neither are the deaths of so many girls. Shazi is determined to uncover the reason for the murders and to break the cycle once and for all.
Interview
1. Where did the idea for The Wrath and the Dawn come from?
I'd always wanted to write a book based on The Arabian Nights, and when I began reading them seriously, the frame narrative from which the stories were based—the tale of Scheherazade—intrigued me. I soon learned it was a Persian story, so I was able to go to my husband's family for research. Like so many of the best things in life, the idea came about naturally.
2. Without spoilers, were there any scenes you had to cut that you wished you could have kept?
Ah, this is tough! I did have to cut a storyline I really loved from the first book, just to make the plot as cohesive as possible. It involved the main character Shahrzad's younger sister Irsa.
3. What were your biggest challenges in writing The Wrath and the Dawn?
I think the biggest challenge was doing justice to such a time-honored classic as The Arabian Nights, all while simultaneously making the story my own.
4. What do you enjoy most about writing books in a series?
The space I have to play with a story. I also love worldbuilding, and when you have this kind of space, I think the possibilities to make your world as rich and detailed as you desire are endless.
5. Can you give a hint of what's to come?
So I do want to stress that I've been told I'm a nice person—but not the nicest writer. People are going to die in the next book, and it may not be easy to stomach, but I can also promise lots of kissing . . . and maybe a magic carpet ride or two.
& Enter to win an ARC copy of The Wrath & the Dawn + other 2015 Penguin's titles!


---
I live in North Carolina (Go Heels!) with my husband Victor and our dog Mushu. My YA fantasy novel, THE WRATH AND THE DAWN, will be published on May 12th, 2015. In my spare time, I like to cook, dance salsa, and wreak havoc on the lives of my characters.
I'm also a member of the Society of Children's Book Writers and Illustrators, as well as an active member of the Science Fiction & Fantasy Writers of America.
a Rafflecopter giveaway