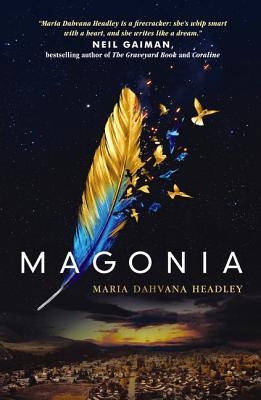 Published: April 28, 2015
Publisher: Harper Collins
Neil Gaiman's Stardust meets John Green's The Fault in Our Stars in this fantasy about a girl caught between two worlds... two races…and two destinies.

Aza Ray is drowning in thin air.
Since she was a baby, Aza has suffered from a mysterious lung disease that makes it ever harder for her to breathe, to speak—to live.

So when Aza catches a glimpse of a ship in the sky, her family chalks it up to a cruel side effect of her medication. But Aza doesn't think this is a hallucination. She can hear someone on the ship calling her name.

Only her best friend, Jason, listens. Jason, who's always been there. Jason, for whom she might have more-than-friendly feelings. But before Aza can consider that thrilling idea, something goes terribly wrong. Aza is lost to our world—and found, by another. Magonia.

Above the clouds, in a land of trading ships, Aza is not the weak and dying thing she was. In Magonia, she can breathe for the first time. Better, she has immense power—and as she navigates her new life, she discovers that war is coming. Magonia and Earth are on the cusp of a reckoning. And in Aza's hands lies the fate of the whole of humanity—including the boy who loves her. Where do her loyalties lie?
---
Jem and the Holograms
Release Date: October 23rd 2015
Director: Jon M. Chu
Writer: Ryan Landels
Main Cast: Juliette Lewis, Ryan Guzman, Molly Ringwald, Aubrey Peeples, Stefanie Scott, Aurora Perrineau, Hayley Kiyoko
As a small-town girl catapults from underground video sensation to global superstar, she and her three sisters begin a one-in-a-million journey of discovering that some talents are too special to keep hidden. In Universal Pictures' Jem and the Holograms, four aspiring musicians will take the world by storm when they see that the key to creating your own destiny lies in finding your own voice.

Directed by Jon M. Chu (Step Up series, G.I. Joe: Retaliation), the musical adventure stars Aubrey Peeples, Stefanie Scott, Aurora Perrineau, Hayley Kiyoko, Ryan Guzman, Molly Ringwald and Juliette Lewis. Jem and the Holograms, based on the iconic Hasbro animated TV series, is written by Ryan Landels and produced by Chu, Jason Blum for Blumhouse Productions, Scooter Braun for SB Projects, Bennett Schneir, and Brian Goldner and Stephen Davis of Hasbro Studios.