---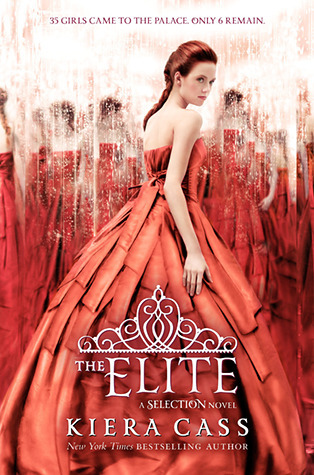 The Elite
The Selection #2
Author:
Kiera Cass
Reading Level: Young Adult
Genre: Dystopia | Contemporary Romance
Release Date: April 23rd 2013
Review Source: HarperCollins UK | Netgalley
The Selection began with thirty-five girls. Now with the group narrowed down to the six Elite, the competition to win Prince Maxon's heart is fiercer than ever—and America is still struggling to decide where her heart truly lies. Is it with Maxon, who could make her life a fairy tale? Or with her first love, Aspen?

America is desperate for more time. But the rest of the Elite know exactly what they want—and America's chance to choose is about to slip away.
The Elite continues and things can only get better. Thirty-five girls were chosen as potential princesses and now there's only six. The competition is getting tough and feelings are running high and decisions need to be made. The competition is within touching distance of being over and life changing decisions are about to be made. Who will Maxon choose? Better yet, who will America choose?
This book should have been a breeze. I mean, Maxon has already expressed his feelings for America. That's pretty much a confession that she's his first choice, right? But let me tell you, this book was far from a breeze. It was a mixture of being highly frustrating but wonderful all at the same time. In The Elite I developed love for some characters and hatred for others. I grew frustrated and slightly angry, but I also smiled and the frustration melted into love. This book made me feel so many conflicting emotions.
And you know what this book didn't lack? Drama. Seriously, it was so jam packed with it that I could barely keep up (in a good way, of course). There was always something going on, whether it have been America impulsively acting without thinking, the love triangle or the rebels attacking, there was always something to latch onto and savour. I enjoyed every second and after finishing I didn't wait a second before opening The One, book 3.
The only reason this novel wasn't rated a solid 5 was because of the love triangle. They're my least favourite things to be in books and the indecisive feelings of who she loved more was slightly exhausting. I was so Team Maxon that I was like "America, stop having feelings for Carter. Maxon is clearly the better option!" lol. To be honest, I knew the only reason she clung to Carter was because he was safe and familiar, not because she truly wanted him as a partner for life.
The Elite fueled my love for the series, and as always, the cover was absolutely stunning. This is a book which shouldn't be missed out on and I'd recommend this book to everyone.