---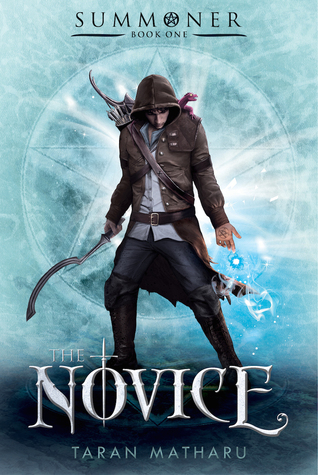 The Novice
The Summoner Trilogy #1
Author:
Taran Matharu
Reading Level: Young Adult
Genre: Fantasy
Released: May 5 2015
Review Source: Feiwel And Friends
When blacksmith apprentice Fletcher discovers that he has the ability to summon demons from another world, he travels to Adept Military Academy. There the gifted are trained in the art of summoning. Fletcher is put through grueling training as a battlemage to fight in the Hominum Empire's war against orcs. He must tread carefully while training alongside children of powerful nobles. The power hungry, those seeking alliances, and the fear of betrayal surround him. Fletcher finds himself caught in the middle of powerful forces, with only his demon Ignatius for help.

As the pieces on the board maneuver for supremacy, Fletcher must decide where his loyalties lie. The fate of an empire is in his hands. The Novice is the first in a trilogy about Fletcher, his demon Ignatius, and the war against the Orcs.
Fletcher has been raised by a blacksmith, and has learned to live life as a 'commoner' and been the blacksmith's apprentice. When a book falls into his possession that allows him to realize his powers as a summoner. Going on the run from Pelt he finds a school that will teach him how to harness his power and use it as during the war that is currently taking place between the humans and the orcs.
This is my type of book. I absolutely loved it! During the first few chapters I was a little worried that it wasn't going to be my type of story. The second I thought this the next paragraph was all about elves and orcs and the war that was going on between everything. From that point on there was just enough fantasy to make me realize that I wish I was living in Pelt.
The pacing was a little off for me. Not to say it was bad; I think I'm just overly picky when it comes to pacing, I want to be a film editor so I have to be picky about pacing. I feel that it was a little fast paced for my liking. But honestly if it were any slower I think I would be complaining about the slowness of the book. So like I said, it wasn't too bad-I just had a hard time with it.
I love how Matharu was able to make me feel connected with the demons that are summoned. Honestly I love Ignatius, since he is Fletcher's demon, but because he has his own personality apart from Fletcher as well. Honestly I would read a book that was just about the demons - I feel like they are like the Minions from Despicable Me. They're adorable and characters that you immediately fall in love with because of how adorable they are!
Honestly cannot wait for the next 2 books within this series, I really wish I already had them in my hand. Cannot wait to follow Fletcher, Ignatius and friends and the path that lies ahead for them!