---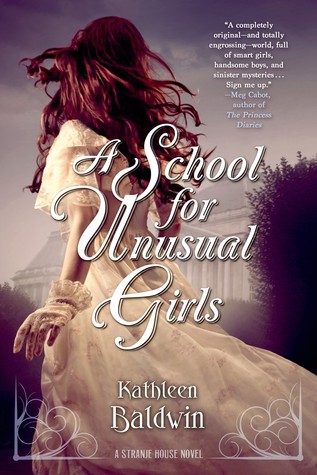 A School For Unusual Girls
Stranje House #1
Author:
Kathleen Baldwin
Reading Level: Young Adult
Genre: Historical Fiction
Released: May 19 2015
Review Source: Tor Teen
It's 1814. Napoleon is exiled on Elba. Europe is in shambles. Britain is at war on four fronts. And Stranje House, a School for Unusual Girls, has become one of Regency England's dark little secrets. The daughters of the beau monde who don't fit high society's constrictive mold are banished to Stranje House to be reformed into marriageable young ladies. Or so their parents think. In truth, Headmistress Emma Stranje, the original unusual girl, has plans for the young ladies—plans that entangle the girls in the dangerous world of spies, diplomacy, and war.

After accidentally setting her father's stables on fire while performing a scientific experiment, Miss Georgiana Fitzwilliam is sent to Stranje House. But Georgie has no intention of being turned into a simpering, pudding-headed, marriageable miss. She plans to escape as soon as possible—until she meets Lord Sebastian Wyatt. Thrust together in a desperate mission to invent a new invisible ink for the English war effort, Georgie and Sebastian must find a way to work together without losing their heads—or their hearts...
A story based in 1814 about girls whose parents think they are unruly and not proper enough to be married. In 1814 this was a disgrace for these parents. The story follows Georgiana as her parents take her to a school they think to be, basically, a torture chamber to straighten out their daughter. Little do they know that this school is only enhancing Georgie's unruly behavior.
Usually I stay away from Historical Fiction. I tend to not be able to get into the story as much because I feel like I'm taken out of a different time, I'm more comfortable in the here and now or in the future. But boy did I plow through this book. I really enjoyed it, and believe me, I cannot wait for the sequels.
Georgie was a fantastic character. She was exactly how I was at 16, except I wasn't fantastic at math and science. But the behavior parts, it was me to a T. Her relationship with Sebastian as well. As it starts, it's rocky. But you automatically know you are to like him. Lord Wyatt, is his proper name, and he challenges Georgie, and at the same time is falling in love with her. While the romance isn't the main focal point of the story it was good enough to wrench on my heart strings. Oh boy, never have I cried in such a way for a book's love story. I didn't full on The Fault In Our Stars cry, but I had tears in my eyes at least twice over their love story.
Honestly, this book has taught me that sometimes I need to pick up books that I don't usually read. I was apprehensive to read this book because I was worried that it would be dull and boring for me. But from the start it was captivating. When she got to the school I almost felt like Miss Stranje was Professor X and she was housing mutants. But really she's just housing brilliant young girls!