---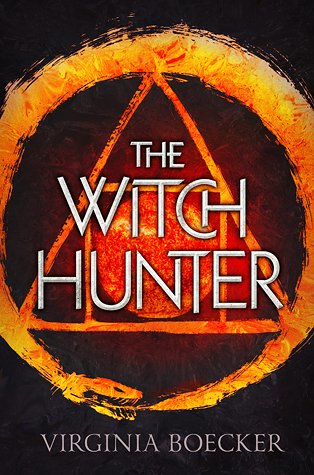 The Witch Hunter
The Witch Hunter #1
Author: Virginia Boecker
Reading Level: Young Adult
Genre: Paranormal | Witches
Released: June 2nd 2015
Review Source: Little, Brown Books for Young Readers
The magic and suspense of Graceling meet the political intrigue and unrest of Game of Thrones in this riveting fantasy debut.

Your greatest enemy isn't what you fight, but what you fear.

Elizabeth Grey is one of the king's best witch hunters, devoted to rooting out witchcraft and doling out justice. But when she's accused of being a witch herself, Elizabeth is arrested and sentenced to burn at the stake.

Salvation comes from a man she thought was her enemy. Nicholas Perevil, the most powerful and dangerous wizard in the kingdom, offers her a deal: he will save her from execution if she can break the deadly curse that's been laid upon him.

But Nicholas and his followers know nothing of Elizabeth's witch hunting past--if they find out, the stake will be the least of her worries. And as she's thrust into the magical world of witches, ghosts, pirates, and one all-too-handsome healer, Elizabeth is forced to redefine her ideas of right and wrong, of friends and enemies, and of love and hate.

Virginia Boecker weaves a riveting tale of magic, betrayal, and sacrifice in this unforgettable fantasy debut.
When I received this book – I was beyond excited! I love books about witches so this one is of my most anticipated books of 2015. To top it off, after reading the story, I kissed the book. That's how amazing this book is! Not only did The Witch Hunter had witches, but it is full of rebels, actions and romance. It was more than I expected to be! I loved the story from beginning to end. An amazing story with a likable cover.
Right off the bat, I loved Elizabeth, our main character. This girl is truly a heroine. She is strong minded, funny, brave, but most of all she is kind. The work she does is not easy. She is a witch hunter. In this kind of duty, she should be cruel, like almost the rest of the hunters. Yet she doesn't let this define her. She uses her brain to make her own judgments, in which gets her in trouble. Trust me, there is no dull moment with her. She is wicked smart.
What I loved most about The Witch Hunter is John. Can I request more pages with him? John blushes, he is kind and gentle, and sweet and adorable and the list goes on and on… The only issue I had with him is the fact that we rarely get time to get to know him. But the little we get from him is enough for one to fall for him. *sigh* I volunteer to be his patient.
I don't want to spoil the story. Read it and you'll love it.
The Witch Hunter is fun to read. Full of actions, funny dialogues, amazing characters and John!
Perfect for paranormal lovers - but I highly recommend this to everyone.
Witches, wizards, magic, rebels, actions, swoon-worthy boy… so why not?
Pre-order your copy now!
You don't want to miss out.
*
I NEED the next novel!
*
a Rafflecopter giveaway