---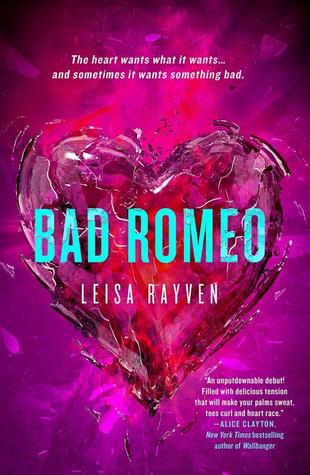 Bad Romeo
Starcrossed #1
Author:
Leisa Rayven
Reading Level: New Adult
Genre: Romance
Released: December 23rd 2014
Review Source: Purchased
When Cassie Taylor met Ethan Holt at acting school, sparks flew. She was the good girl actress. He was the bad boy about campus. But one fated casting choice for Romeo and Juliet changed it all. Like the characters they were playing, Cassie and Ethan's romance seemed destined. Until he broke her heart and betrayed her trust. Now the A-list heartthrob is back in her life and turning her world around. One touch at a time.

Cast as romantic leads once again, they're forced to confront raw memories of the heartbreaking lows and pulse-pounding highs of their secret college affair. But they'll also discover that people who rub each other the wrong way often make the best sparks
---
Starcrossed #2
Reading Level: New Adult
Genre: Romance
Released: April 28th 2015
Review Source: St. Martin's Griffin
How do you fix a love that's been broken beyond repair?

For years, Cassie Taylor tried to forget about Ethan Holt. He was the one great love of her life, and when he failed to return her love, a part of her died forever. Or so she thought. Now she and Ethan are sharing a Broadway stage, and he's determined to win her back. Claiming to be a changed man, he's finally able to say all the things she needed to hear years ago, but can she believe him? What makes this time different from all his other broken promises?

Ethan knows he can't change their tumultuous past, but if he's going to have any chance of being with the woman he loves, he'll need to convince Cassie that her future belongs with him.
Dear Leisa Rayven,
You owe me...
3. A cure for one hell of a book hangover
Please and Thank You.
Now that we got my requests out of the way, it's time for me to
gush
. For 36 hours I was completely consumed by these books, I missed meals, barely slept, and when I had to something other than reading my thoughts always drifted back to Ethan Holt and Cassie Taylor.
Cassie and Ethan met while auditioning for an acting school, sparks flew immediately and they had complete undeniable chemistry, something Ethan didn't know how to handle well. While their relationship starts to evolve in college, we get a glimpse into their less than perfect future. Going back and forth seeing their relationship begin but then witness how damaged Cassie is afterwards it keeps you going; there was never a good time to put the book down. I
SWEAR
there were times where the feels were too much and I had to set the book down take a minute to recoup and went back to reading. I sat down and refused to get back up until the book was done, not until I knew what happened to this girl. What did Ethan do to ruin her? Why was Ethan so closed off before? Is she going to forgive him, would I forgive him? GIVE ME ALL THE ANSWERS!
I definitely had to review both of these books together because I don't know where one ended and the other began, well maybe I do because there was definitely a cliffhanger at the end of Bad Romeo. Thank God I had Broken Juliet sitting on my nightstand ready and waiting for me to dive into it.
The only reason why I didn't give them both five stars is because I wished I was a little more stunned at some of big reveals, but hey that's water under the bridge, both of these books made me feel so much that I didn't care by that time. So please if you love some romance, some steam, some angst, and a little of everything in between READ THESE BOOKS. I was barely 20 pages in texting my best friend "holy crap you have got to read this book, NOW." A word of advice though, don't start this if you have anything planned for the day, you won't be able to put it down, also get a full nights rest, a big meal, and maybe a shower beforehand.