---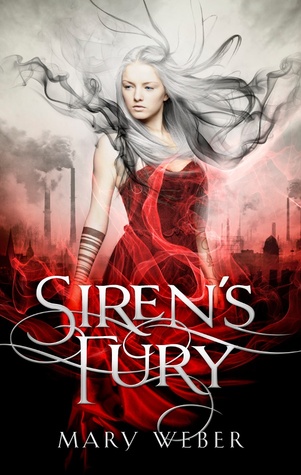 Siren's Fury
The Storm Siren Trilogy #2
Author:
Mary Weber
Reading Level: Young Adult
Genre: Fantasy
Released: June 2 2015
Review Source: HarperCollins
"I thrust my hand toward the sky as my voice begs the Elemental inside me to waken and rise. But it's no use. The curse I've spent my entire life abhorring—the thing I trained so hard to control—no longer exists."

Nym has saved Faelen only to discover that Draewulf stole everything she valued. Now he's destroyed her Elemental storm-summoning ability as well.

When Nym sneaks off with a host of delegates to Bron, Lord Myles offers her the chance for a new kind of power and the whispered hope that it may do more than simply defeat the monster she loathes. But the secrets the Bron people have kept concealed, along with the horrors Draewulf has developed, may require more than simply harnessing a darker ability.

They may require who she is.

Set against the stark metallic backdrop of the Bron kingdom, Nym is faced with the chance to change the future.

Or was that Draewulf's plan for her all along?
Nym has saved Faelen only to realize that her enemy is still around. And this time he has taken her Elementalist powers. Not having her powers proves difficult for Nym. So when she is offered a darker ability it is tempting. Needing to focus on how to defeat Draewulf, Nym may be able to change the fate of the future.
First off. The cover. I absolutely love the cover of this book. That is what drew me in first and foremost. I'm just a sucker for a good book cover. And honestly, this is how I see Nym when reading this book.
So, if the cover didn't draw you in let's hope my review does! Honestly right from the beginning we jump back into the story that ends in Storm Siren, and the story runs with you. You are gripped, wanting to know what is going to happen next, straight from page 1. Nym has to follow Draewulf - who is in Eogan's body - wanting to kill him when she finds out that there is a chance that Eogan could possibly survive Draewulf taking over his body. Unsure how to handle that situation she then realizes that she also has to figure out what Draewulf's intentions are now that he is back, and now that no one is expecting him here.
Honestly I love fantasy books, but usually I need a romance in the forefront of the story. With Siren's Fury I didn't mind that there was more action than romance. I was so enthralled in what was happening that it didn't affect my experience reading this.
Weber is so good at creating a place where you are transported to. I felt as if I was in the Bron kingdom with Nym, I felt as if I were her sidekick; helping her along her way. At least because of how Weber wrote the story I wanted to feel as if I was there helping Nym.