---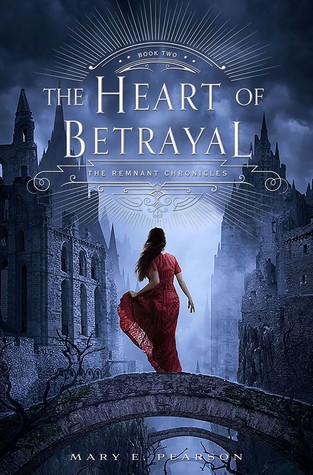 Heart Of Betrayal
The Remnant Chronicles #2
Author:
Mary E. Pearson
Reading Level: Young Adult
Genre: Fantasy
Released: July 7 2015
Review Source: Henry Holt And Co.
Intrigue abounds in this hotly anticipated sequel to The Kiss of Deception!

Held captive in the barbarian kingdom of Venda, Lia and Rafe have little chance of escape. Desperate to save her life, Lia's erstwhile assassin, Kaden, has told the Vendan Komizar that she has the gift, and the Komizar's interest in Lia is greater than anyone could have foreseen.

Meanwhile, nothing is straightforward: there's Rafe, who lied to Lia, but has sacrificed his freedom to protect her; Kaden, who meant to assassinate her but has now saved her life; and the Vendans, whom Lia always believed to be barbarians. Now that she lives amongst them, however, she realizes that may be far from the truth. Wrestling with her upbringing, her gift, and her sense of self, Lia must make powerful choices that will affect her country... and her own destiny.
Picking up right where we left off with Lia, we are now in Venda. Where Lia is a prisoner and Kaden is trying desperately to keep her safe and make her love him. Rafe has a plan to help save Lia, although Lia isn't completely sure that it is going to work. With Venda's Komizar watching over her every move, unsure of whether she will be of help or a detriment to Vendan's, it makes it more difficult for Lia's and Rafe's escape.
AGH! I just...there's so many words, and so many feelings. I'm not sure where to start. Do I start with my aggravation over how this book ended? Do I explain how BADLY I need the next book RIGHT NOW? Do I gush over Rafe and Lia's romance? Do I talk about the pity I feel for Kaden? It's hard to do all of this without giving away too much!
You learn some things about Kaden that are eye opening, I really hope we see him some more in the third book. I really want to find out how his arch will continue after how HOB ended. He is such an interesting character. One that is gullible and yet deceiving. I feel like he's the perfect mix of innocence and corruption. He's a fragile being, yet has the strength needed to be an assassin. I honestly think he may be my favorite character, I secretly find myself rooting for him to win Lia's heart. But then there's part of me that feels like there might be a Luke/Lea twist in our future within their story. Either way, I cannot wait to get more from Kaden in the next book.
Rafe and Lia. They "have to" learn to love each other again. After learning that Rafe is the prince she ran away from she's unsure if he really does love her because of who she is, or because she is the Morrighan princess. She is also afraid of the fact that she does love him, she was so sure she wouldn't before their planned marriage and that's why she ran away. What makes it harder is the fact that since they are both prisoners if they both want to escape without harm they have to act like they do not care about each other. So once they're sure of their feelings their trust in one another gets tested.
When I say I'm mad at how the book ended I mean that I just cannot believe it would end like that. In such a way where I'm biting my nails to get the last the book. Honestly the book ended EXACTLY how I expected it to, and I'm completely glad that it ended in the way it did. But I'd be even more glad with how it ended if I had the next book in my hands right now as well.