---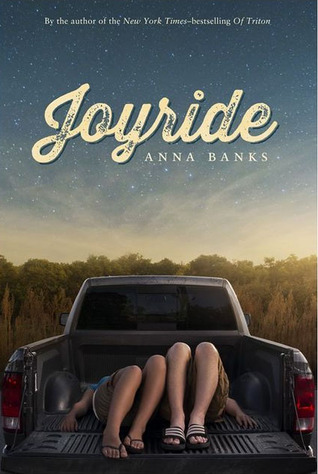 Joyride
Author:
Anna Banks
Reading Level: Young Adult
Genre: Contemporary
Released: June 2 2015
Review Source: Feiwel & Friends
A popular guy and a shy girl with a secret become unlikely accomplices for midnight pranking, and are soon in over their heads—with the law and with each other—in this sparkling standalone from NYT-bestselling author Anna Banks.

It's been years since Carly Vega's parents were deported. She lives with her brother, studies hard, and works at a convenience store to contribute to getting her parents back from Mexico.

Arden Moss used to be the star quarterback at school. He dated popular blondes and had fun with his older sister, Amber. But now Amber's dead, and Arden blames his father, the town sheriff who wouldn't acknowledge Amber's mental illness. Arden refuses to fulfill whatever his conservative father expects.

All Carly wants is to stay under the radar and do what her family expects. All Arden wants is to NOT do what his family expects. When their paths cross, they each realize they've been living according to others. Carly and Arden's journey toward their true hearts—and one another—is funny, romantic, and sometimes harsh.
A girl whose kept hidden for so long and doesn't want to be noticed, a boy only looking for someone to help him stay hidden with the chance of being noticed. When Carly meets Arden it isn't the most conventional way, and it's not the most ideal. But it's one of the best chance meetings that has happened to either of them - pretty much ever. Carly just wants to help her family, but she isn't prepared for what comes along with being a teenager with hormones.
Honestly was really surprised by this book. I started it one morning and finished it that night. I plowed through it, and I would hope that others could too. It's a short read, and it'll keep you intrigued for the whole read as well. From the start the story gripped me. From Carly and Arden's meeting - and the switching of Carly and Arden. Not necessarily their POV, it was always from Carly's POV, but you would get a peek into what Arden was up to and how he was handling things. One of my favorite things when reading from Arden's side of the story was when it would say something and then Arden's thoughts would come to the forefront. Usually in a smart aleck remark that made me laugh. Banks had such a good way of writing his story.
Banks also did a really good job at making me not see where the story was going. I remember wondering how things were going to blow up. There was only one sure-fire thing I thought: Arden's dad being racist towards Carly being Latina. But what came around the corner threw me for a loop. She also did a good job of making me feel Carly's pain for certain situations. I have not ever been in the circumstances that she has, but through the book I felt as if I had lived her life. Lived her problems and figured out solutions, Carly is such a strong character and therefore makes you feel as if you are just as strong as she is.