---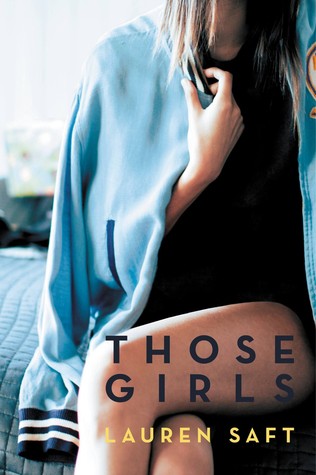 Those Girls
Author:
Lauren Saft
Reading Level: Young Adult
Genre: Contemporary
Release Date: June 9th 2015
Review Source: NetGalley | Poppy
Junior year, the suburbs of Philadelphia. Alex, Mollie and Veronica are those girls: They're the best of friends and the party girls of the school. But how well does everybody know them-and really, how well do they know one another? Alex is secretly in love with the boy next door and has joined a band-without telling anyone. Mollie suffers from a popular (and possibly sociopathic) boyfriend and a serious mean streak. And Veronica just wants to be loved-literally, figuratively, physically...she's not particular. Will this be the year that bonds them forever or tears them apart for good?

In a debut novel that is raw, honest, hilarious, and thought-provoking, Lauren Saft masterfully conveys what goes on in the mind of a teenage girl and how often even the closest of friends walk the thin line between love and hate.
This book is about those girls. You know, the ones who are inseparable best friends that have been that way almost all their lives. Where one goes, the other is sure to follow.
Mollie and Alex have been friends for as long as either one of them can remember. Then a bit later, they had met Veronica and became a trifecta. So, fast forward to the first day of junior year and it seems as if it's all business as usual. Mollie is terrified she's pregnant, Alex is there to rub her back and take her to get morning after pills, and Veronica can't wait to talk about the fabulous summer she's had.
This book is everything a person would think high school would've been - boys, parties, smoke, lights, drama, and best friend rivalry.
At the beginning, I wasn't even sure what the real conflict was. It just seemed to be a story of three girls who are all trying to be something better for themselves and grow, and that, maybe, they weren't growing at the same pace or direction.
Before you know it, couples are cheating, secrets are being kept, and no one even knows what has happened during this school year.
This book just wasn't my type of story. There's just too much unnecessary drama. It just showcases teens as irrational, overly emotional, hypersexualized, destructive beings.
I will say, the characters are very well developed and everyone had their own defining properties.