---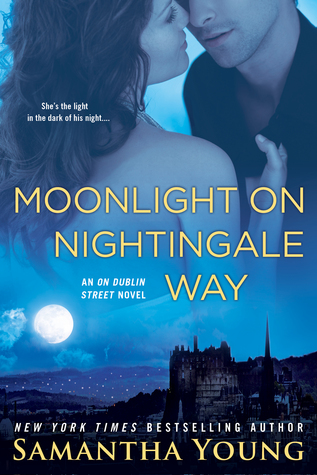 Moonlight on Nightingale Way
On Dublin Street #6
Author:
Samantha Young
Reading Level: New Adult
Genre: Romance
Released: June 2nd 2015
Review Source: New American Library | Penguin Berkley
Last in the Series

Logan from Echoes of Scotland Street is back with his own smoldering story, as the New York Times bestselling On Dublin Street series returns…

Logan spent two years paying for the mistakes he made. Now, he's ready to start over. He has a great apartment, a good job, and plenty of women to distract him from his past. And one woman who is driving him to distraction…

Grace escaped her manipulative family by moving to a new city. Her new life, made to suit her own needs, is almost perfect. All she needs to do is find her Mr. Right—or at least figure out a way to ignore her irresistible yet annoying womanizer of a neighbor.

Grace is determined to have nothing to do with Logan until a life-changing surprise slowly begins turning the wild heartbreaker into exactly the kind of strong, stable man she's been searching for. Only just when she begins to give into his charms, her own messy past threatens to derail everything they've worked to build…
Just like any of her books, Samantha Young will capture your attention to beginning to end. With Moonlight on Nightingale Way, she takes us into a journey in the lives of many of my favorites characters for one last time. It is a bittersweet moment. Reading the last book in the series of characters I've grown to love from the very beginning. One last ride… One last time reading about this amazing family and friends.
Moonlight on Nightingale Way is the story of Grace, a freelance book editor that enjoys working at night. As she works her way through one night, she begins to hear bangs from her next door neighbor… Then she hears a woman screaming… of pleasure. Flustered, Grace is determined to face her new neighbor the next morning and is ready to complain. What Grace did not expect is to be living next to a GORGEOUS man. With a stunning body. Grace is inner drooling when she first comes face to face with Logan. But as she remember the night before, she tells her new neighbor off. Unfortunately for Grace, Logan, the hottie standing in front of her, really doesn't care what she thinks. This only makes Grace more annoyed. With a bad start, Grace and Logan will bump heads but their chemistry will bond them together.
Moonlight on Nightingale can be read as a standalone, but I highly recommend that you check out all the previous books of this series. You will learn to love and learn from these characters. As we learned from the previous novel, Echoes of Scotland Street, Logan is introduced as Shannon's older brother. Logan has recently been released from prison (for a good cause). Now as a free man, Logan is trying to catch up on the lack of "entertainment"... If you know what I mean. Every night he is determined to take a woman to his apartment and well... entertain himself. This only makes things worse between Grace. But his manhood is much important than his whiny neighbor.
As the drama unfolds, these two will become part of each other's lives - that is caused by an unforeseen situation. Grace out of good heart, helps Logan with this "situation". She learns the truth of his past, and she wants to lend him a hand. Since no one ever did with her. The more she spend times with Logan, the more she wants him. But she knows she will never be anything else. She is not his type. She've seen the many faces of his late night acquaintances. Will she ever be good enough for him? Will she ever truly trust him with her heart?
Logan and Grace will have you laugh here and there. I loved how they detested each other and only to end up madly in love. Grace had a terrible childhood, Logan's been through tough situations. These two will make each other better and whole. Two halves become one. How perfect is that?
So here it is, the last book of the series. A series you should pick up if you haven't yet. For those waiting, you will be greatly pleased with the epilogue. Samantha gives us a brief glimpse at each other couples, happy as they ever been. But most of all, she gives you a story of another couple to love and cherish. Read it and love it. Enjoy this one last gift of On Dublin Street series.