---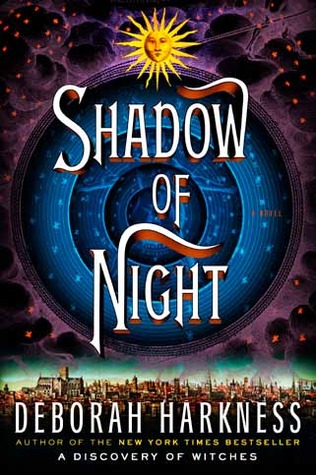 Shadow of Night
All Souls Trilogy #2
Author: Deborah Harkness
Reading Level: Adult Fiction
Genres: Paranormal | Supernatural
Released: May 26th 2015 (box edition)
Review Source: Penguin Books
The entire All Souls trilogy, including A Discovery of Witches, Shadow of Night, and The Book of Life, now available in a beautiful boxed set

With more than two million copies sold in the United States, the novels of the All Souls trilogy have landed on all of the major bestseller lists, garnered rave reviews, and spellbound legions of loyal fans.

Now including a limited edition of Diana Bishop's Commonplace book—which contains a floor plan of the Old Lodge, snippets of poetry, some passages from a witch's grimoire, astrological insights, and much more—as a special bonus, this lavishly designed boxed set is perfect for readers who love magic, passion, history, and suspense.
Shadow of Night
is the second book in the
All Souls Trilogy
by Deborah Harkness. That basic premise to this book is vampire Matthew Clairmont and witch Diana Bishop go timewalking (aka traveling back in time) to 1590 England. They do so in order to try and locate Ashmole 782, the sacred alchemy book that holds vital information to the survival of vampires, witches, daemons and humans. Diana first found this book in the library in book one, but it had disappeared after that first encounter. They are also timewalking back to the past in order to try and meet witches who will teach Diana how to control her magic. She had denied this part of her for so long that now she needs help learning about her real self and what she is capable of.
What can I say about this book other than WOW! If I thought the first back was packed with stuff, I saw nothing until cracking this book open! There are so many things I want to write but I don't want to spoil anything for those of you who haven't read it yet, and honestly…there are just so many details in this book that if I told you even a fraction of all the amazing twists and turns that make me want to shake you and tell you to "just read it already!" we would be here forever! I will say that Harkness continues this awesome adventure of supernatural beings, historical throwbacks, and a romance that deepens and strengthens to a whole new level.
When Diana and Matthew arrive back in 1590 England there are so many things other than just investigating the reasons they are there. They must also deal with the implications of being people from the future in a very different time. Matthew better understands this era since he is a very old vampire who actually lived during this time and has friends that they meet up with from his past. Diana on the other hand is taller and more assertive than most women of that time and speaks with a different accent, which causes her to stick out. This is a major problem because she is also a witch thrown into a time where accusations and punishment of witchcraft are running rampant, so she really needs/wants to stay under the radar, which is proving to be more difficult than she had hoped. She has to learn about this side of herself that she has turned her back on for so long, while at the same time figuring out how to acclimate herself to Matthew's friends and home, in a world where if she is caught there will be major consequences.
There is also the love story between Diana and Matthew that began in the first book, but picks up speed in this one. Theirs is a union that is not accepted in their world. Vampires and witches are not supposed to mate with each other. So that is another hurdle they must overcome. All aspects of their relationship are explored in this book. From their courtship growing more intense, to the physical intimacy shared between them as their relationship grows, to the possibility of marriage and even children (which is highly unlikely between a vampire and a warm bodied witch). And most importantly…will they find the book they are so desperately seeking, Ashmole 782, to not only learn from it, but also to keep it out of the wrong hands?
I can't express enough how much punch is packed into this book and I highly recommend it. There are a lot of characters to keep track of, just as there were in the first book, but if you can keep your thoughts organized and focus mostly on our main couple, you will be just fine. So whether you have already read book one and are about to start book 2, or haven't started the series yet at all, I highly suggest going ahead and jumping in fully. You won't regret it and I give this book 5 stars! I can't wait to get reading on the third book. Harkness knocked the first two books of this series out of the park and I just know she will do the same in book 3!